This has been reposted from my former blog. Some of the links may not work.
Being as it is
Talk Like a Pirate Day
I thought it would be a great time to post my review of the Hands of a Child Unit:
Pirates
. Truth be told the actual lapbook has been put together for a couple of weeks. I had this post started a month ago. Life just got busy, I needed perspective.
Hands of a Child
sent out an email asking if anyone would like to review their units. In return the person would get the unit they review for FREE. Well, I jumped on that bandwagon. I was asked to submit three choices and they would send me one to review. Each Picklet chose the unit they wanted, I sent the choices in and Dill won!
Pirates
it be...aaaargh matey!
(Before I go on I want to warn you that after reading this to Cool I was told is too wordy. I apologize in advance for my wordiness.)
Dill believes he is a Pokemon Pirate Spy so this unit fit right in like his favorite blankey.
The first thing we did was read through the information
HOC
provided in the packet. We carefully mulled over vocaulary words to decided which ones we needed. The end result was adding more words than
HOC
had. While reading through the packet and different Pirate books we found many words that were "pirateish" but unknown to us. The solution was simple, cut more cannons to add on to the book.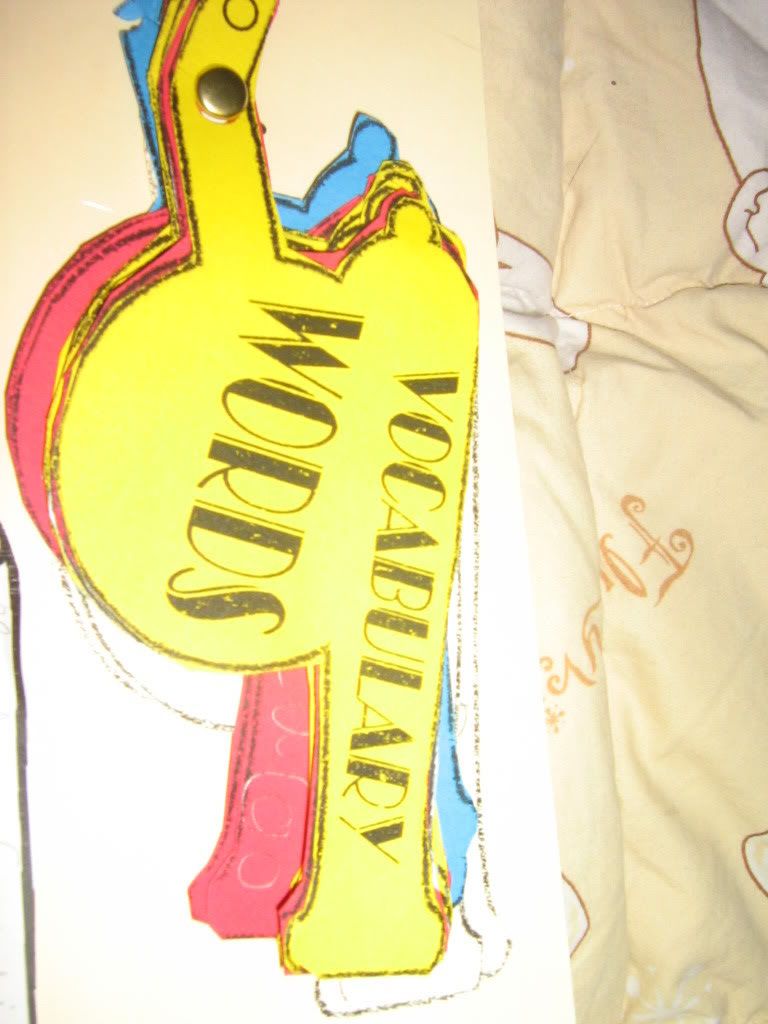 Pirate Victuals was the next item we decided to tackle. ICK! Moldy biscuits and rats...oh yummy! Being a boy I guess that was ok because he wanted to continue the study.
We read about The Pirate Code. One of the activities was writing his own code. We put it on a scroll and it was signed by Captain Spear. Even though he copied the paper in front of him almost word for word it made him use deductive skills adding only the ones that were really important.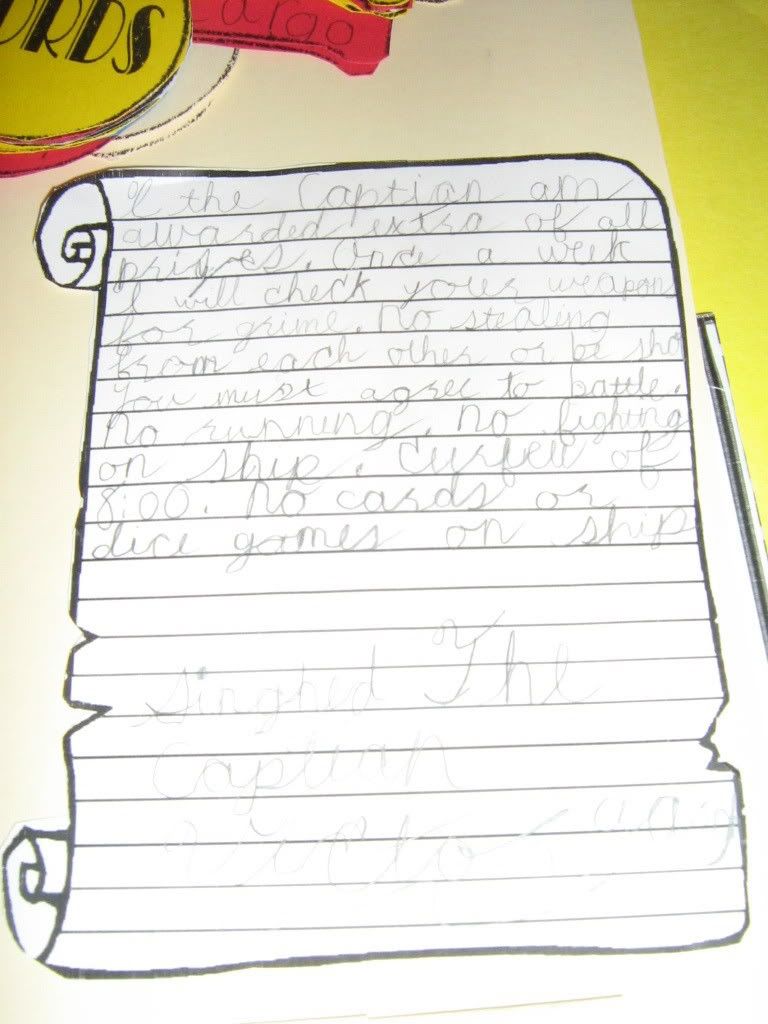 Learning types of Pirate ships was next. It is wonderful when an 11 year old can spew the differences in ships that were used. His favorite was the Sloop. Right along with that was learning the parts of a ship. Labeling the ship was much fun and pointing to the parts on a play ship was even more fun.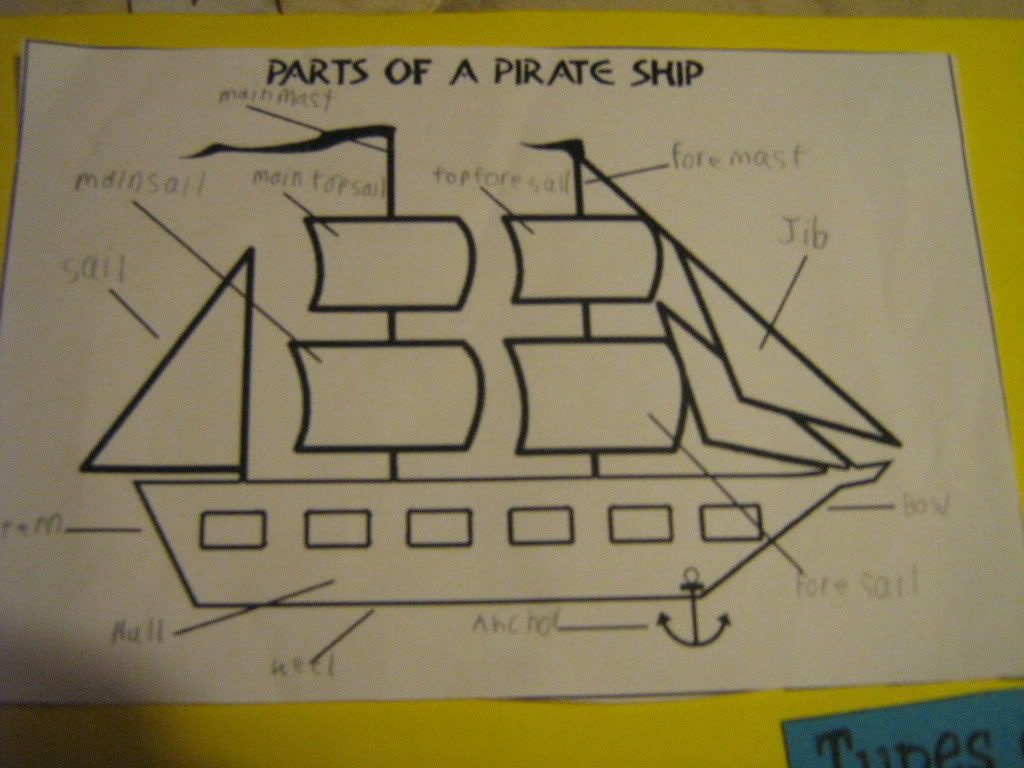 Pirates in Mythology. This was the perfect opportunity to do a little research on Dionysus. Computer skills and reading worked it's way into this one. Dill went around all day telling the myth of Dionysus.
Learning the names of the crew may have been a mistake because he is now Captain and Cool is Quartermaster. I come in somewhere around slave.
The Jolly Roger is nothing new around this house. We have made several Jolly Rogers through the years but learning the French term "joli rouge" which means "pretty red" was very cool.
Women Pirates were touched upon but not in great detail. We decided to do some other research and found some interesting items. Dill's favorite, which he made me print out, was The Story of Two Women Pirates from learningisland.org. That took a place on the inside front cover of the lapbook.
Treasure maps and hidden treasures are so much fun. I found a treasure map outline, printed it out and spear put his own landforms and clues to find the hidden treasure. We discussed that it is believed there are many hidden treasures still not found and he has vowed, my little Pokemon Pirate Spy, to find those treasures and make us all rich.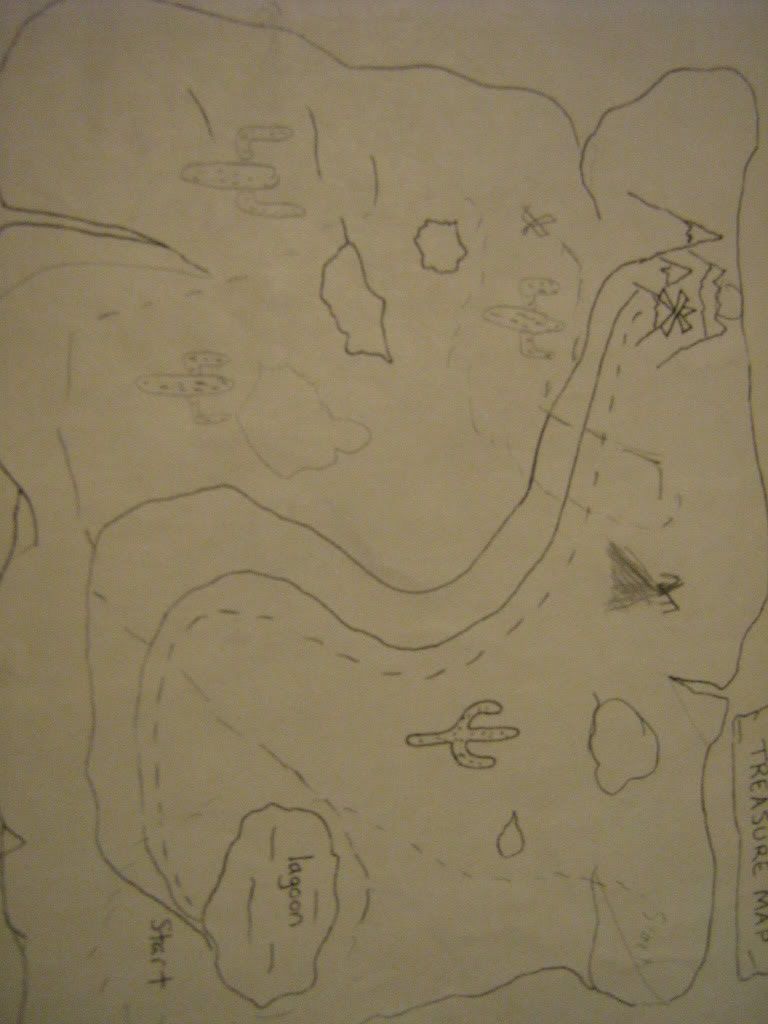 The unit was accepted well. Dill was very excited to learn more about the one eyed wonders. We printed out the answers for the mini books as it is too mundane for Dill to do. I know the repitition reading/thinking/writing the information provided is a real asset as it keeps it active for a couple of days and that helps with the memorization process but sometimes that can hinder fast thinking, bright kids. Typing skills are also important...LOL I think typed and ready to glue answers would be a great addition for the unit. It would be much less work for the mother involved.
The packet provided was jam packed with exciting information for an 11 year old. I found that Dill learned more about what he wanted to learn about and less about the "boring stuff" but it all kept him interested. The really interesting stuff we all learned about over and over and over again. But that is what we like!
I added a few extra activities that will help make the unit a bit broader. First is geography. I printed a world map from enchantedlearning.com. He did a search on google for pirates. He pinpointed 4 different places pirates populated. This continued on throughout the unit.
The second is a timeline. This is very simple. I printed several timeline pages from donnayoung.org. Dill then copied the timeline that is included in the reading with the unit. This is also how I incorporated handwriting in the unit. Copying is much easier for a fast thinking kid.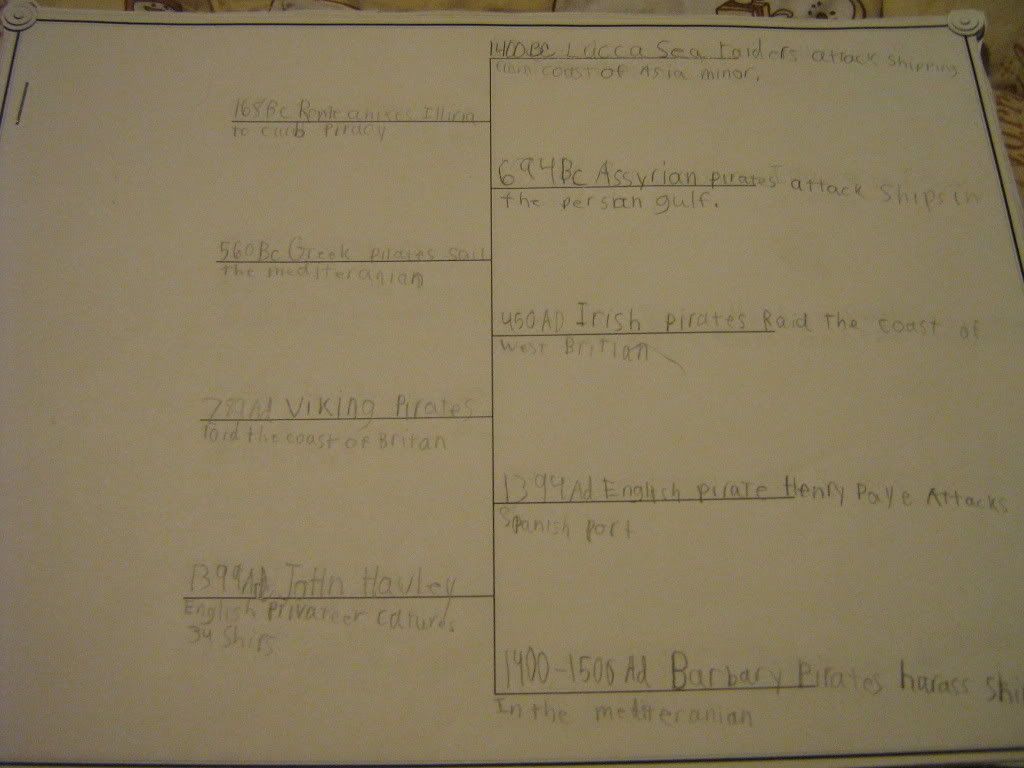 Next we learned to talk like a pirate. Basically substitute be for are or is and you are a pirate!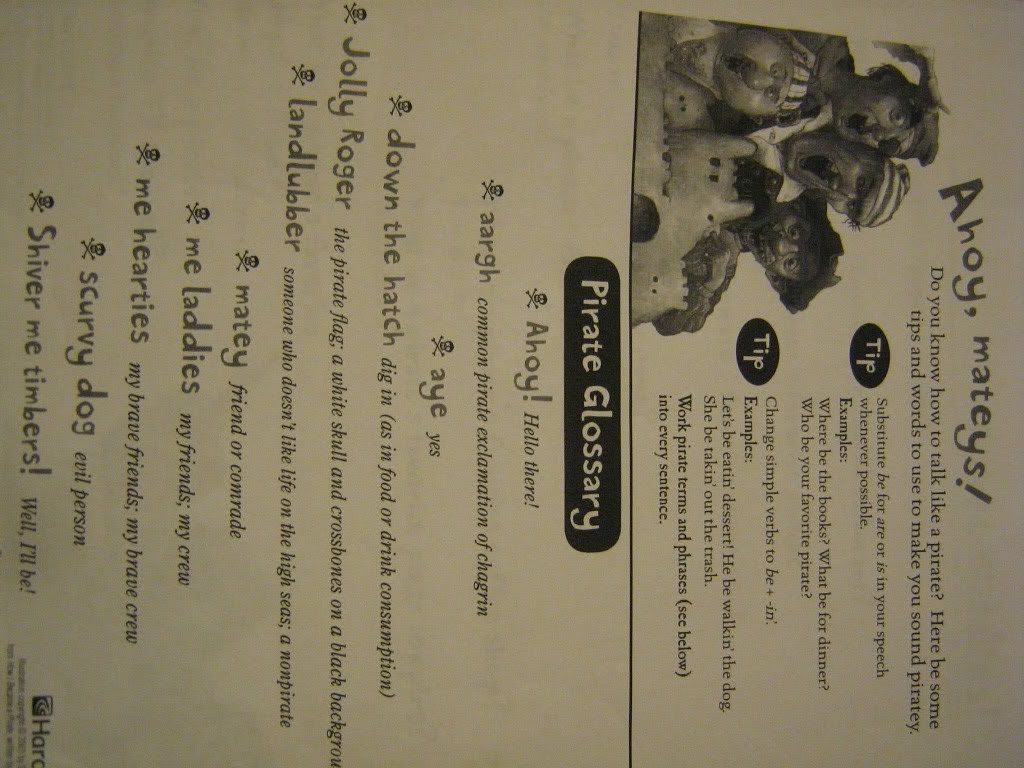 The Pirate Glossary was great though I was very tired of hearing "scurvy dog" after the first 50 times.
What be a pirate's favorite coffee shop? If you want to know the answer then you can print out Pirate Riddles for that and more.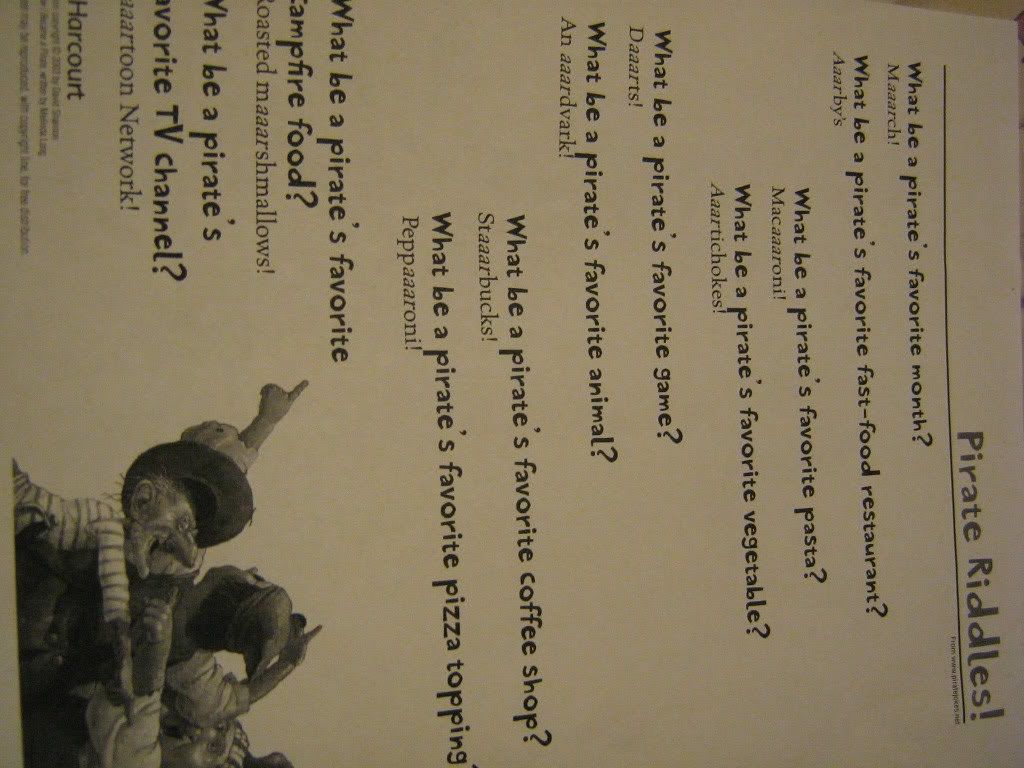 Our funnest activity of all was finding out our pirate names. Dill is Deadeye Buckthorn. I am The Evil Mermaid Eliza. Oh I LOVE that! ;-)
My overall inpression of the unit is positive. I like the fact that I can pick and choose the ideas from the unit we use. (We skipped all the scripture) Everything is very family friendly and can be used at many different levels, not just the level on the front cover. It kept Dill's interest and made him want to learn more and more. But being the homeschool mom that I am, I really would like to see math, geography and science added to this unit. When I do lapbooks they consume our lives. We eat sleep, drink and think lapbook. I could easily use this for a month without any other curriculum added for all the picklets IF those subject matters were included. (more websites to visit, different levels of math, experiments to show how salt water would affect their personal possesions...etc) I find my kids learn much better if math and science is something they enjoy and includes the same subject matter as the unit they are working on and if they are hands on. It is much harder to do that when I have to add in extra subjects that aren't part of the topic.
What I like most about this unit is that it is interesting enough that Dill will and can work on it by himself. It is also written at a level that is not too far above his head so he can understand it. I would definately recommend it to someone whose child is interested in learning more about pirates. In fact, I have already recommended this unit to a friend of mine who happens to be the mother of Dill's best friend. He saw the cool projects and wanted to do them too.
I asked Dill what he liked most and least about this unit. Vocabulary words were a definate down. Too much writing though he liked learning what the words meant. The best liked project of the unit was the Jolly Roger. He even made up a story about why he picked the items for the Jolly Roger. Great use of his imagination.
Three thumbs up, one thumb sideways.
(c) 2007-2009 Wicked Pickles-Homefront Lines