When my aunt lived in Hawaii she had a business selling handmade cards to the local gift shops. One of the cards she made had a cloth shirt on the front and cloth shorts on the back. The cloth was Hawaiian fabric of course.
We decided to make our own cards after that fashion. We have an entire bag full of old hankies that were given to Sweet by our dear, departed neighber Mrs. D. The picklets went through the hankies and picked out fabric to use.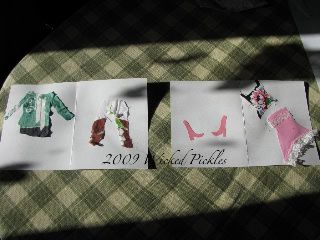 Dill made a shirt and pair of pants. He put his pants on front and the shirt on back. They sort of look like cowboy clothes.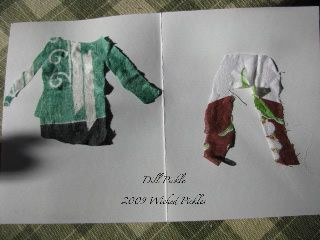 Sweet made a skirt and tank. The lace on the bottom of the skirt is not glued on so it can blow in the breeze. She even made shoes to go with the outfit.
In all a fun project.
copyright 2009 Wicked Pickles-Homefront Lines