I had no idea I was this far behind on blog posts until I uploaded pictures this morning. Even though it is a week late I thought I would share.
We started with a breakfast of purple, yellow and green pancakes. While we ate and throughout the day we listend to Mardi Gras music. The picklets filled out the K and W part of a KWL sheet. Little is known by the picklets of Mardi Gras.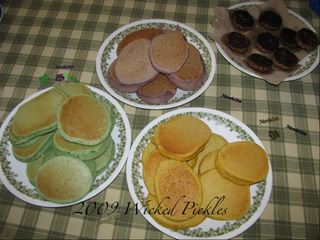 I read a history of
Mardi Gras
aloud as well as
How Mardi Gras Works
. The Picklets, who thought Mardi Gras was a pagan holiday, were surprised to see that it has Christian ties. The celebration begins on January 6th and ends on Mardi Gras which is French for Fat Tuesday. Fat Tuesday is the day before Ash Wednesday and 46 days before Easter.
The picklets then played a game to find out who would be the Queen or King of day. Sweet won first and became Queen. Dill won second to become King.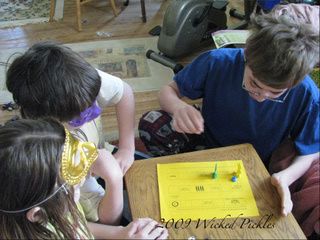 They then made crowns and jester hats to wear with the masks and beeds that Rita gave to them.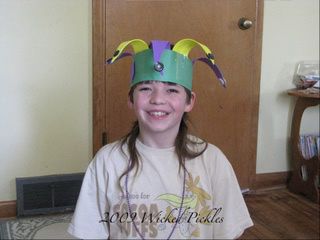 After completing the hats, we went out to have pancake races. We learned that the
Onely England
Fat Tuesday tradition is to have pancake races. You can see the 2007 Onely race
here
. We figured out that 415 yards measures out to be 1245 feet. So that is what we were going to measure out. Unfortunately, we didn't have enough room before we hit the edge of town so we measured out 600 feet. We measured out a length of rope that was 20 feet. Two of the picklets then measured out 600 feet in 20 foot incriments while Chip and I chalk lined the beginning and end. It took us from our alley to the middle of the park.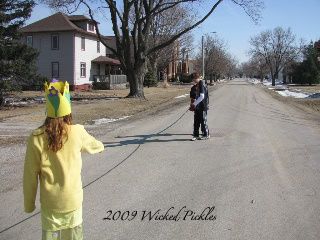 The picklets then ran in mask, hat and apron the length of 600 feet and back. Chip came in first, Sweet 2nd and Dill 3rd.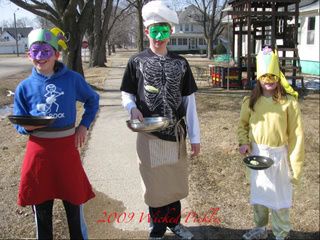 The picklets then had a pancake tossing contest in which:
Chip got 77 flips in 38.1 seconds.
The prize??? Malts for all at the gas station. Large for the winner, regular for the runners up.

After our pancake races we went into the house. While I started lunch the picklets worked on maps of Louisiana, France and Brazil. All big Mardi Gras places.

For lunch we had "crab" cakes, potato wedges, carrots and green bean casserole.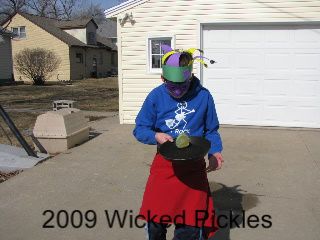 During lunch we watched Post Cards from Buster: Music Mystery (New Orleans, Louisiana). It actually had nothing to do with Mardi Gras or New Orleans but oh well. After that we watched Louis Armstrong: The Gentle Giant of Jazz. Louis was from New Orleans and really came a long way. The picklets were really surprized that they recognized some of his music. Their favorite being What a Wonderful World. We also read a short history of Louis, watched some short video clips and the picklets answered questions to an online quiz but I cannot find that link now.

Since Louis played When the Saints go Marching In the picklets learned a little history of the song as well as learned how to play it. Dill and Sweet got their recorders and watched a lesson on youtube while learning to play. Chip sat down to the piano and played it with some sheet music I printed. They were going to give a concert for Cool when he got home but that never happened.

For supper we were going to have gumbo pie and king cake but that didn't happen either. Cool called as we were making supper and said, "Hop in the van, come to town, we are going to IHOP!" So that is exactly what we did. Unfortunately while we were gone, Millie the Wonder Dog age the king cake. Despite that, it was a fun way to end the day.


copyright 2009 Wicked Pickles-Homefront Lines