The picklets are into watching comedians. They laugh and snort and laugh some more. While at the library last week they found
Thou Shalt Laugh
.
This was a video they had started watching during a visit with our supervising teacher last month. "Oh, can we get this? Please, please, please! This was so funny. We want to finish it! PLEASE?"
How could I resist that?
Since Cool wanted to work at the Sokol building before the St. Joseph's Day dance, I brought the small tv/dvd player and let the picklets watch the video while eating.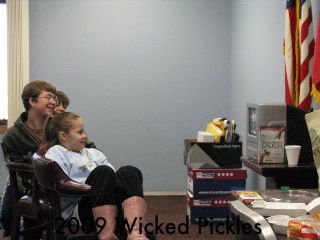 Cool sat down for a while and watched it too.
Our favorite? Jeff Allen. His bit on teenagers was hillarious!
The kids favorite? Taylor Mason and his puppets. He reminds me alot of Jeff Dunham (who is hillarious) but is alot cleaner cut. Their favorite puppet is Paco.
If your kids are into telling jokes, watching comedians or loves to laugh this video is clean cut and pretty darned funny.