It must be summer!
Sweet and Dill set out on the corner with lemonade and cups wanting to make a million.
They even held signs and yelled lemonade for sale trying to attract business.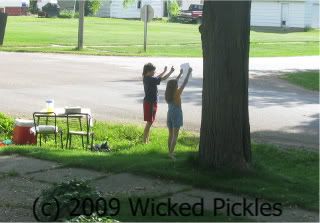 I felt sorry for them after an hour or so with no customers so went out and bought myself a glass of the lemonade they took from MY cabinet, using MY pitcher, mixed with MY water and served in MY throw away cups. I even brought my own glass from the house. They still charged me full price! I had mashed some strawberries in my cup cause I love strawberry lemonade.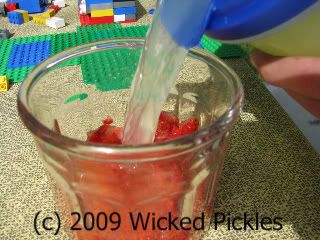 Sweet and Dill thought the strawberries were such a great idea they asked me if I could get some for them and make them a new sign.
The strawberries were just what they needed! They sold all of their lemonade at $.25-$.50 per cup with $.25 extra for a scoop of strawberries. AND after paying me for their supplies made $11.50 EACH! They are already talking about setting up again on Sunday hoping to make more mooolah.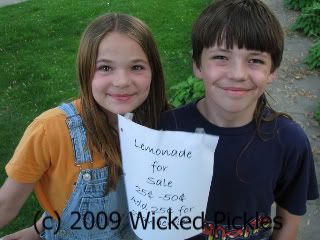 This is a great lesson in economics and profit and loss. They were each upset that I charged them for the supplies (I only charged them $1.00 each since I got the lemonade for free after coupons and the strawberries were 99¢ a pound) but I explained that supplies don't come free. They each reluctantly handed over a dollar. Now to teach them about saving vs spending.