When we camp we usually have the same thing to eat. Brats and hotdogs, hamburgers and chicken grillers. These are usually accomplanied by macaroni salad, potato salad or cole slaw, veggeis and dip, jello salad and beans. Boring but 4 times a year we know exactly what we are eating. Easy schmeasy.
Right before we went camping Cool was cleaning out the garage and found the pizza maker thingamabobs that he used when he was growing up and thus our menu changed. We had campfire pizza for lunch one day. If you want to make campfire pizza just follow these directions.
Place a peice of buttered bread, butter side down, on one side of the pizza maker.
Put pizza sauce on bread.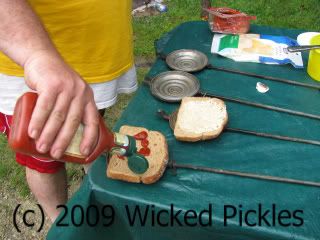 Place pepperoni on top of sauce.
About 5 peices will do.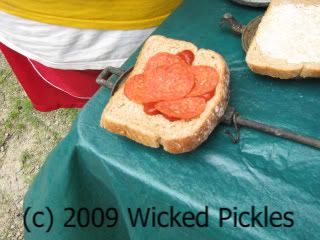 Top the pepperoni with mozzerella cheese. We used shredded but any mozzerella will work.
Put two more dots of sauce on top of the cheese. Not sure why, that's just what Cool did.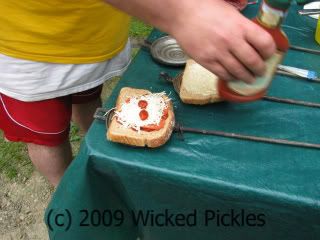 Top with other peice of buttered bread, this time butter side up.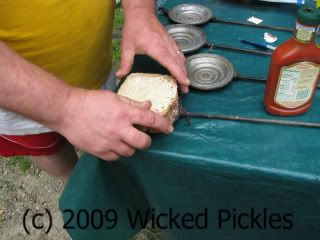 Put the other peice of the pizza maker on and squeese real tight to get it to shut. Then latch it with the hook.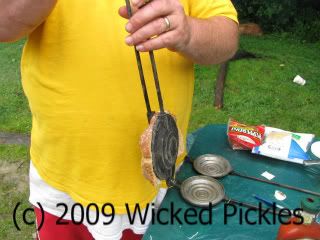 You then tear the crust and extra bread that is hanging over the side off. Throw it to the eagerly waiting dogs.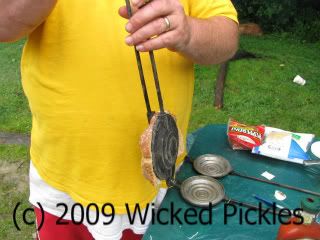 Stick the pizza maker right in the coals of the fire.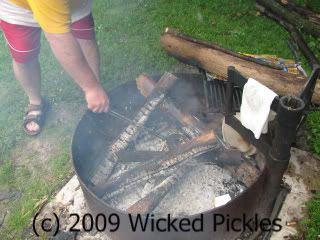 After a few minutes turn it over.
I cannot tell you how long it takes to cook this. It really depends on the heat produced by the coals. You just kinda know when it is done.
You slowly open it up...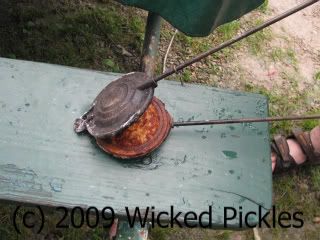 Pick up the fork you find laying on the table and wipe it clean...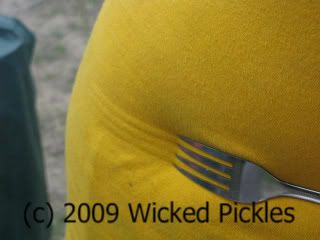 And gently lift the pizza out and let it fall on a paper plate.
I let me dad cut it open because pizza is his favorite food and because he has never had campfire pizza before.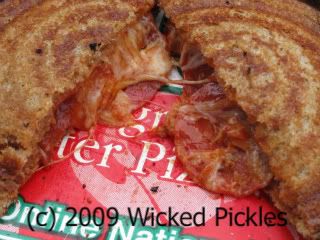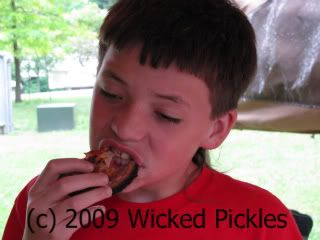 And for those of you who don't like pizza (like me) it also makes really good grilled cheese sandwiches.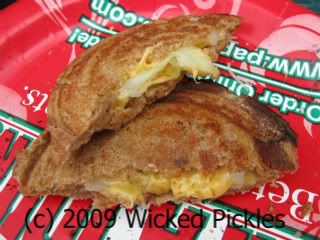 (c) 2008-2009 Wicked Pickles-Homefront Lines
All Rights Reserved