I got a new toy. Actually it is a new
used
toy, but it is new to me. I got a dishwasher, thanks to Chip. And I have been playing with it today.
When Chip worked for the guy who didn't pay him very much for his time, Chip overheard the guy call the dump and ask how much it was to "dump" a dishwasher. The guy found out it was going to cost $15 and kinda freaked.
So, Chip casually asked if the dishwasher worked and it led into asking me if we would like to have it. Oh, let me think. Do I
want
a dishwasher??? Duh! Yeah!
It has been out in the garage since we got it. I put some water in the bottom to rehydrate the seals since it had been sitting for a while. Today Cool brought it in and cleaned it up. I then ran a cycle with bleach water and a rinse cycle to get any left over bleach there might be.
THEN came the fun part. I actually put dirty dishes in it and ran a rinse and hold. Woo-hoo! I almost can't wait for supper dishes!
OK, it isn't pretty to look at and I really don't have any room in my kitchen for a dishwasher. I have to roll it here and there to get it out of my way. But it is a dream come true. A true blue, albeit ugly, dishwasher. It honestly brings tears to me eyes.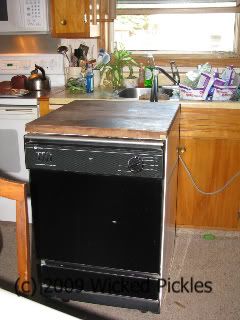 I am THAT happy! Superficial today but happy!