Wednesday night we finally got around to carving the pumpkins. Cool bought some nice, big pumpkins at the grocery store one night a couple weeks ago, before they were all picked over. That is the time to do it.
The picklets drew their designs this year. Chip even drew ours and carved it to boot. I think they look wonderful.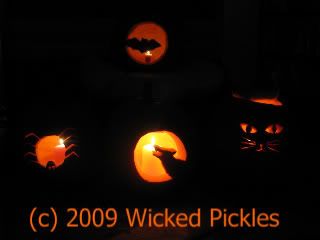 Dill's masterpiece was a spider. Sweet decided on a cat and Chip did a bat for himself (I am sure it is in honor of his batboy status). :-) For the parental pumpkin Chip decided on a werewolf. I am sure that is because my mouth is always open...LOL.
Afterward Sweet and I made two different flavors of pumpkin seeds. Recipes below.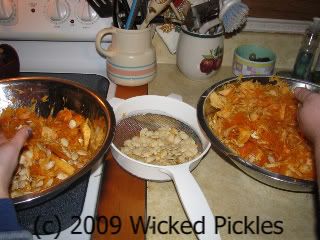 Pumpkin Seeds
Fill a stockpot with water and bring to a boil. Add 1/4 cup salt and all your clean pumpkin seeds. Boil for about 12 minutes, drain on clean towel to dry.
Savory
1 1/2 cup boiled pumpkin seeds
2 Tbs melted butter
seasoning of choice
Toss seeds in butter and seasoning. Spread on baking sheet. Bake at 350 for 25 minutes stirring after each 10 minute session.
(I made 3 batches of savory. My first batch was just salt. The second batch had garlic powder and salt. The third batch had Mrs. Dash Garlic and Herb, extra garlic powder and some pepper. After baked they were mixed all together. YUM!)
Sweet

1/2 cup pumpkin seeds
2 Tbs butter
2 Tbs sugar
1/2 tsp cinnamon
Toss boiled pumpkin seeds with butter, sugar and cinnamon. Bake at 350 for 25 minutes stirring after each 10 minute session. These are by far the picklets favorites!
(c) 2009 Wicked Pickles-Homefront Lines