Born at 1:23 am, 14 years ago today, an 8 pound 8 ounce baby boy was born.
Hard to believe this is that same baby boy. And yes, he is "undeniably nerdy".
We "celebrated" his birthday Saturday because we thought we would be in town all day today. He requested grilled steaks, fresh corn on the cob and bacon cheese fries. He is definitely an Iowa man. ;-)
Our plans changed today and we ended up being home after all. He decided he wanted to volunteer at VBS and spent his evening helping with story time. (Absolutely no prompting from me what so ever. He is a good boy.) While he was gone we put together a little "surprise". Little presents to open, birthday cards and a chocolate coconut creme pie.
He got home and was very surprised. I truly believe impromptu "parties" are more fun than the well scheduled ones. We had a riot!
We had no candles but I made him blow out the imaginary ones because you can't celebrate a birthday without making a wish and blowing out the candle.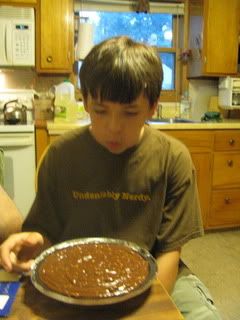 Sweet decided to be a little devil and duct taped his birthday card.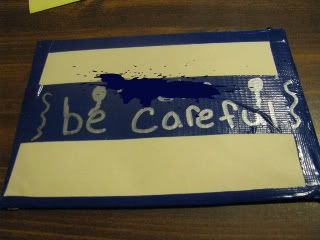 She is also a bit facetious. Notice her comment on the top of the card she gave him?
As is the tradition for birthdays, major holidays and any other time we have spray whipped cream, Chip "whip creamed" Dill.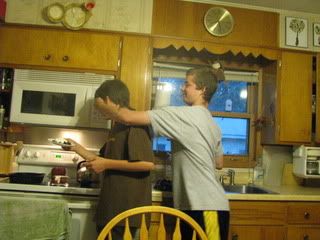 He took it well.
And Gracie the Meek reaped the benefits.
Here is his favorite gift. I paid 50 cents for it at a garage sale. It just proves he
is
undeniably nerdy, as I stated before.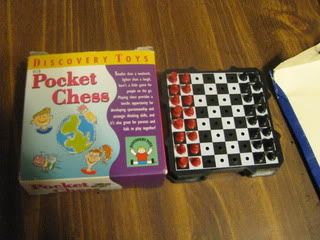 Undeniably nerdy or not...most of the time he is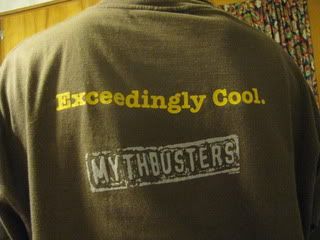 Happy 14th Birthday Bud. We love you!
(c) 2008-2010 Wicked Pickles-Homefront Lines