It has officially arrived, December 1, and the countdown has begun! Each year I try to do fun activities to countdown to the big day. This year I am adding school work too. Some days it is all fun, some not. It is a gamble to open the door and get the slip of paper. Today's list was long and I didn't think we would get it all done. We did our last activity about 9:30. Whew! Our list was:
1. Make holiday window clings--I found the window cling craft at Easy Fun School. This craft did not work as well as the instructions said it would. They are still drying but have shrunk and separated. :-(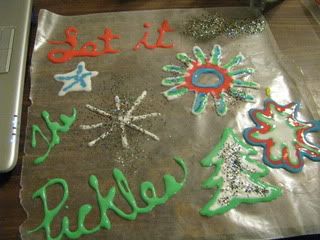 2. Write holiday letters about your year--we all sat down and composed our holiday letters. Will type them up, print them out and get cards and letters out next week.
3. Illustrate Silent Night--this is a paper quilting project I thought would be fun. Hmmm...we will see.
4. This day in 1920 the first game of Bingo was played...let's play some Bingo!--I made the children gamble. It's about time they learned. Each bingo card cost them a quarter. It makes the game fun when you are playing for quarters now doesn't it?? Of course this look on Dills face isn't one of happiness. It is desperation because he is down a buck fifty.
5. Chunky Monkey pancakes and homemade syrup--This was a bonus...I had bananas that needed used up so we had the delicious pancakes.
6. Listen to Cinnamon Bear--as is tradition in the house we listened to The Cinnamon Bear. Will the silver star be found and recovered? We will have to tune in tomorrow to catch the next exciting episode!
7. A Bach Christmas Advent calendar--OK...I normally use this online advent calendar but this morning I couldn't get it to work. I did a quick search and found this Bach Advent calendar instead. Can you say, "Hello music appreciation??" We listened and tried our hand at the quiz. In our defense no where in the recorded message did it mention when and where Bach was born!
Not on our list but we unstrung the lights Cool put on the tree and restrung them. Not that Cool doesn't do a knock up job of stringing lights but they just didn't look right. We finished the tree and love it! As Dill said, "It's awesome!"

Happy countdown!