I guess we were tired last night. I fell asleep about 5:30 and woke up this morning at 4:10am. Sweet fell asleep before me and slept until I woke her up to deliver papers. She fell asleep again after we delivered. Worn out!
We have to catch up on A Bach Christmas and The Cinnamon Bear this week because we didn't do it on Sunday. Here is today's list:
1. What day is it? Check your shoes! This one was tricky because I fell asleep early last night. Soooo...St. Nicholas left a note and hung it on the Christmas tree.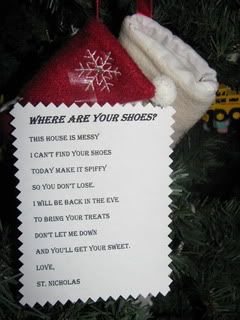 2. Lable a
map of Germany
.
3. Learn about
St. Nicholas and take quiz
.
4. Copywork
5. This day, in 1964, Rudolph the Red Nosed Reindeer debuted on NBC. Watch Rudolph.
6. Enjoy Rudoph sandwiches. :-)
Cut two peices of bread into 4 triangles. Spread 4 triangles with peanut butter. Place two mini preztles on the flat top of the bread to resemble antlers. Top with the other 4 triangles. Add raisin eyes, cherry nose and thinly sliced apple slices for mouth.
7.
A Bach Christmas
.
8. Illustrate Silent Night for paper quilt project.
9.
The Cinnamon Bear
.
(c) 2008-2010 Wicked Pickles-Homefront Lines