Being a member of
CAP
, Chip has had some terrific opportunities available to him. One of them was security detail at the airshow a couple weekends ago. He spent two long days walking the perimeter, policing the area and keeping people back behind the line. He left home at 5am and didn't get home until 10pm. He was tired, oh so very tired, but loved every minute of it. We attended the airshow the 2nd day.
It was pretty cool to walk in and see my eldest standing guard. Though the fact that he really looked like a soldier was sobering. The bus he is standing in front of has a jet engine and went down the runway at over 300 MPH.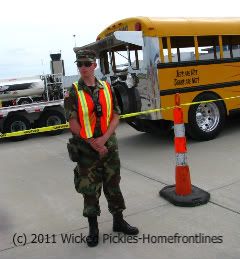 We got a front row seat and saw some pretty cool planes and tricks.
Seeing the planes up high was much easier when they would put on their smoke.
This plane dropped parachuters. Those parachuters had red smoke but I didn't get a picture of them. :/
It was a cloudy-ish day but made for great silhouette pictures when the sun tried to pop out. Actually the sun fully came out about the time the show was over.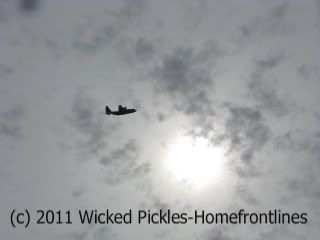 The University of Iowa engineering department has a trainer plane. They did a mock mission that was pretty cool.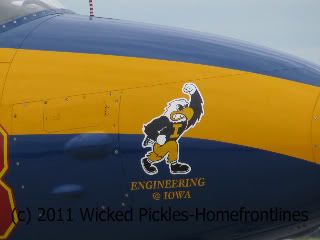 Throughout the day we would catch a glimpse of Chip. He hated the fact that I took pictures of him. What he doesn't understand is I am proud of him.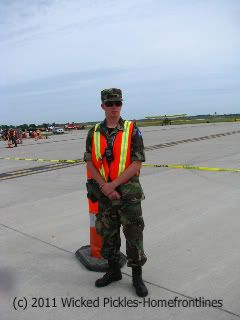 Dill tolerated the obligatory picture.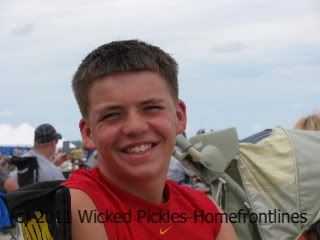 And I love this picture of my oldest and my youngest. I have no idea what they are looking at since the airshow was in back of them. Notice the caution tape between the two.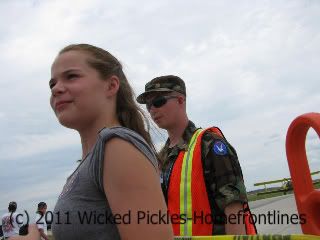 The highlight of the day was being able to see
USAF Thunderbirds
.
Cool was psyched! His dream in life is to see either the
Blue Angels
or
The Thunderbirds
, preferable both. One down, one to go!
It was spectacular.
Of course, I am sure he was wishing he was a cadet in
CAP
because Chip was fortunate enough to not only meet
The Thunderbirds
, but got to see the planes and talk with the mechanics. Poor Cool had to go home while Chip got to have all the fun!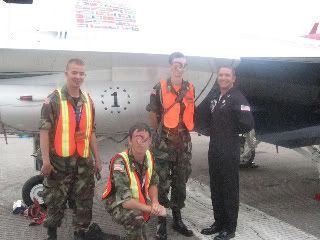 It was a great weekend, a great show, a great learning experience and something I am sure Chip (and the other picklets) will NEVER forget.
If you are interested in seeing a Thunderbird show, here is a great video, taken in Boston, from start to finish and is very good quality.
(c) 2008-2011 Wicked Pickles-Homefrontlines