By nature I am an unorganized person. But lately I have been in an organizing mode. This is not by choice mind you. The picklebarrel is in need of a major overhaul so I am forced. The first of my projects was our school closet. It was to the point that we would open the door and pray that nothing would fall out on us. Getting it shut again took an act of congress. And with school starting it was a necessity to be sure everything has a place and there is a place for everything. It is a nice way to start off the year! =D
I did not take before pictures. I am sure it would have broke the lens of my camera. It
was
THAT BAD!
Looking in the closet. Grammar posters are hung on the door making for easy reference if needed.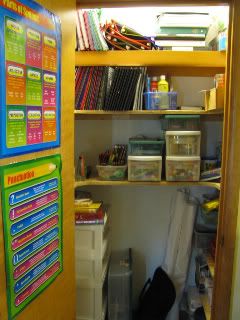 The boxes and drawers are full of craft items, glue, markers, clipboards etc.
Is this too organized?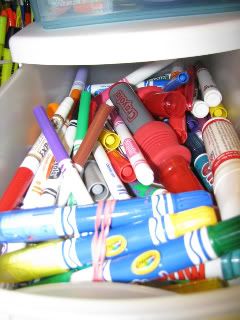 The green lidded boxes are the picklets individual boxes. I had better never hear I can't find scissors or a stapler or sticky notes again. They also have picked out the pencils they want to use and keep them in the box too.
When you look in the closet to the left we keep educational games and puzzles. These are free for the picklets to play anytime. Into the Forest is one of the favorites so far this school year. Of course River Crossing, Rush Hour and HiQ are favorites of the picklets as well. When the US puzzles are finished they will modpod them for the walls. One shows the US at night and one shows the states and capitals.
Up above the games we keep loose leaf paper, composition books and spirals. The paper was only a penny so we have a lot of it. I know it will get used though.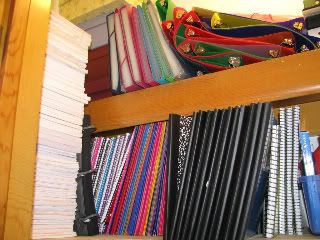 To the right of that I have our box of paint holding the notebooks up and plaster of paris is to the right of the paint. On the top shelf we have our three ring binders and file folders for lapbooks.
The shelves on the lower right hand side contain baskets with our science equipment, staplers, stampers, math items, chalk, and scrap paper. We also have dominoes and figure logic. The floor has their lap desks (for couch work) and a big popcorn tin of crayons.
It is so nice to know where everything is. The picklets can find what they need and as long as I am on top of making sure the items are put away, we know where they are next time too.
Yes, by nature I am an unorganized person but I think I can learn to like knowing where everything is. ;)