He awoke early to ensure that I get up and make waffles, his favorite breakfast. We dug out the Mickey Mouse waffle iron and an old one that DH's mom used to use. It is ancient but it makes good waffles.
After breakfast we walked all around town hitting all the open garage sales. We didn't find much of anything though. C got a free pair of converse tennis shoes, I bought a pair of brand new tennis shoes for 50 cents and J got a pair of Heelys for $5. He has a pair already but these are bigger so he has something to grow into. That will save me about $90 when it comes time. \o/ Yeah!!!
When we got back home we were all hungry and so it was time for J's second request of the day...spaghetti with two different sauces...one with meatballs and one plain. I didn't have the time or energy for all that so we decided on a meat sauce. Those of us who don't want the meat can pick it out. When we were done eating J got the 2nd installment of his gifts. Oh yeah baby, PIE!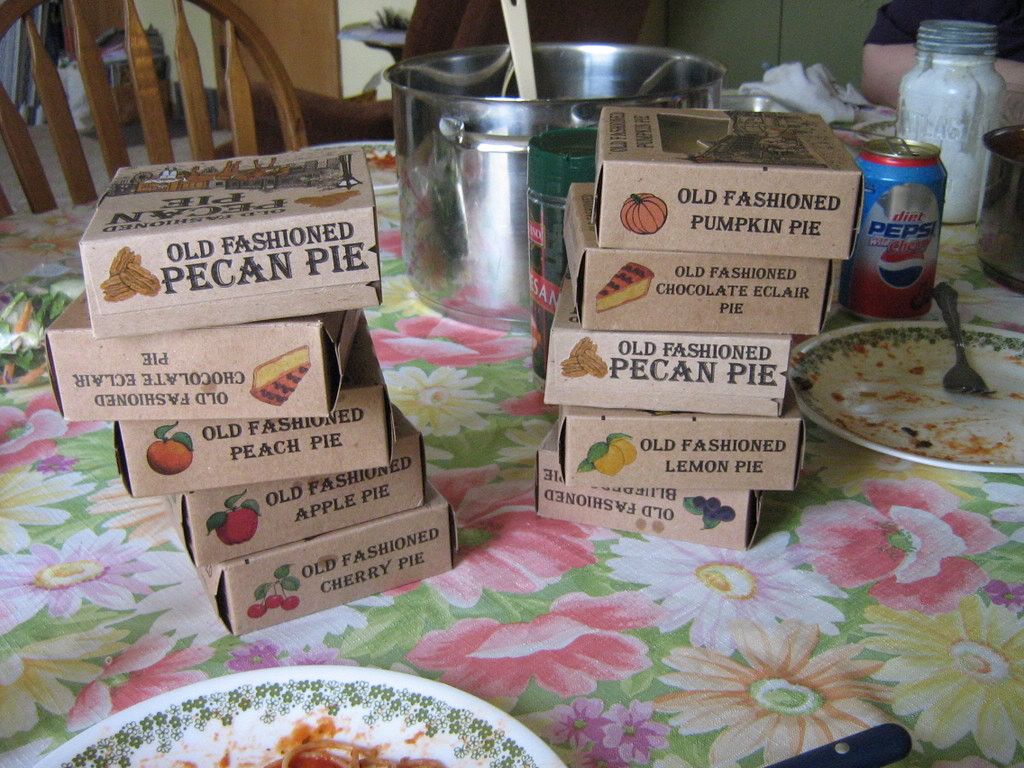 It was then time to got outside and pop the camper up. J helped DH fix some issues that came up last year. What better way to celebrate number 14 and get indoctrinated into manhood. POWER TOOLS! Arrr, arrr, arr.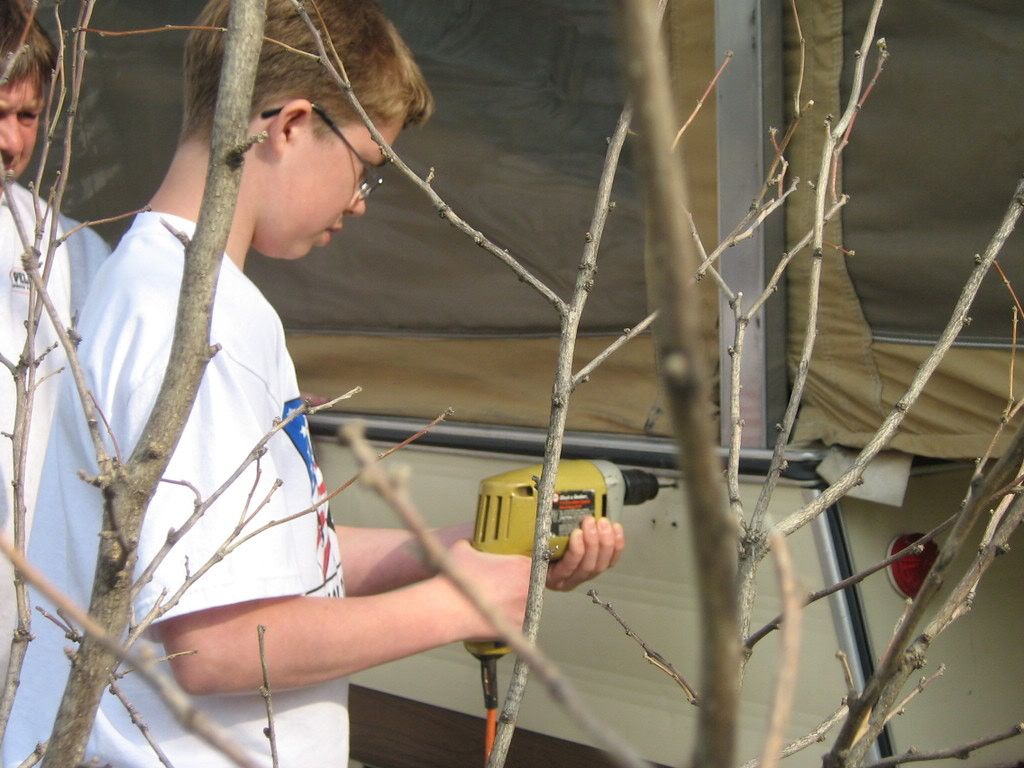 He also spent some time sitting on the porch swing reading Animorphs. He and V insist it is educational because it teaches them about animals and morphing. Who am I to argue...they ARE reading after all.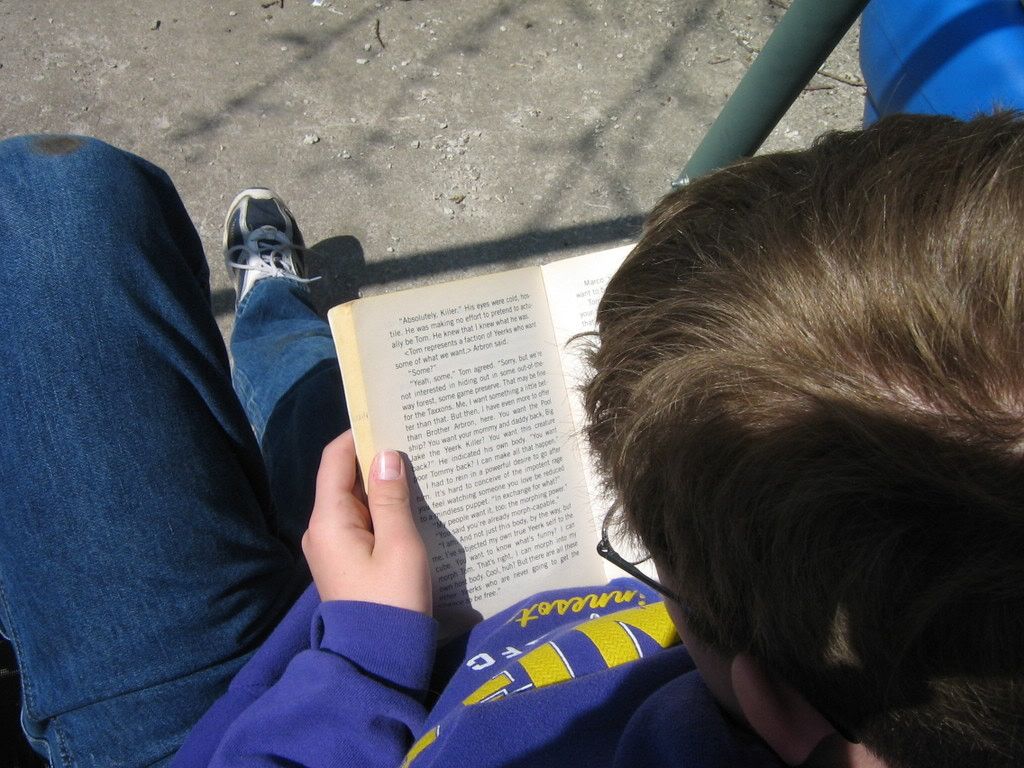 V made the birthday cake this year. J requested eggless chocolate cake. DH hates eggless cake. he tried hard to talk him into a
regular
cake, but didn't win. LOL V did a wonderful job, it rose beautifully. Now would be a good time to insert a picture but I don't have one. We were so full after our dinner of bacon cheeseburgers, potato wedges and chocolate malts that we couldn't fit cake in. (It ended up being taken to dance practice to share)
After supper he opened presents. C and V both make him cards. C worked hard, colored it, make confetti and poured her heart into it. V took a ripped piece of scratch paper and wrote "Happy birthday." I am sure he meant that with all his heart. He received: Backyard Ballistics, 10 individual pies, a memory card and his cell phone. He wanted a cell phone. We told him he didn't need a cell phone because he is with us most of the time. He said he would pay the monthly fee if we would buy the phone. A birthday gift that will teach responsibility? So he received a cell phone (that is nicer than mine BTW) with an MP3 player in it. The 1 gig memory is for the phone so he can listen to his books on tape.
Flowers that N and A, some neighborhood girls, brought J for his birthday.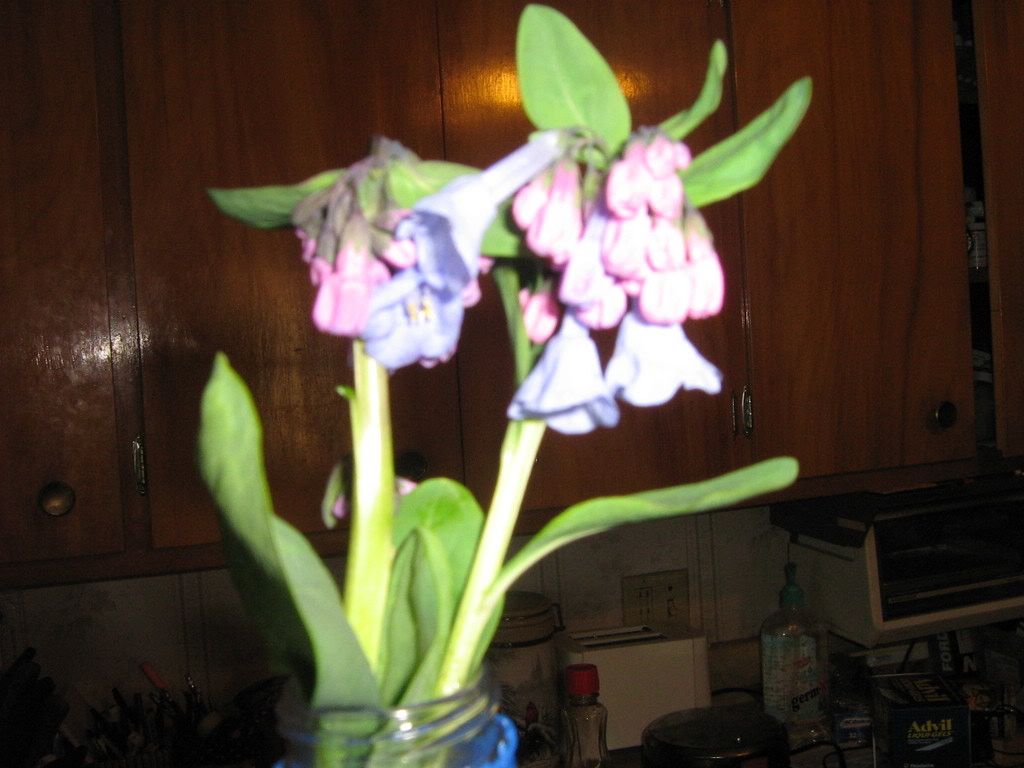 He has changed so much this past year. He has gained muscle strength and found a love of gymnastics. He has become quite the outside helper by mowing and shoveling without much complaint. He has become quite outgoing, tells jokes and keeps the interest of others. He has started to shave. His voice is changing. He is becoming a man. It has been a wonderful 14 years.

He made the comment (through laughs and snorts) to V during lunch, after C took a "shot" of chocolate milk that went all over her face and down her back, that this is the best birthday ever. Can I ask for more?
© 2008 The Homefront Lines