As you all know March 20th was the first day of Spring. We usually try to ring in the new season in a fun way with some learning thrown in.
We started the day by watching Seasons Under the Sun: Spring.
"
Students will see why only the Earth's orbit around the sun determines the official arrival of spring, and that increasing hours of daylight spurs new energy and activity in plants, animals, and people."

We then read about the equinox
here
.
After that I showed the picklets the Spring art project I wanted them to try their hand at.
That Artist Woman
has a fantastic web site full of wonderful art projects. I emplore you to check it out! The project I picked was
Spring Trees
.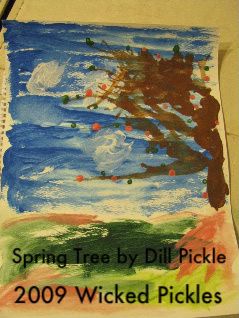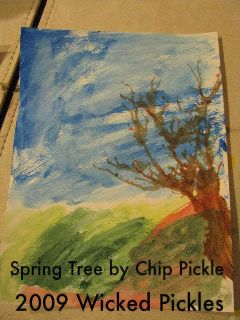 Poor Sweet had an awesome looking painting. Absolutely fantastic. The sky looked wonderful. The tree looked great. The land had beautiful colors.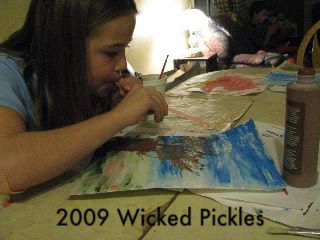 Then she spilled the watered down brown paint. She burst into tears. I told her not to worry. Instead of a spring tree she painting
Pride Rock
.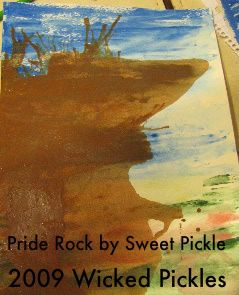 She did paint another one. The brown came out of the dropper too fast so the tree didn't turn out the way she wanted but she wasn't going to do it over. "Good enough," said she.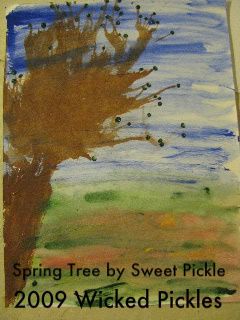 To further celebrate spring we went mini golfing. It was a beautiful day, the sun was shining, the breeze was blowing and the temperatures was warm. I don't know who won the game but I guess it doesn't matter since we all stunk...lol.
Chip going for par on hole three.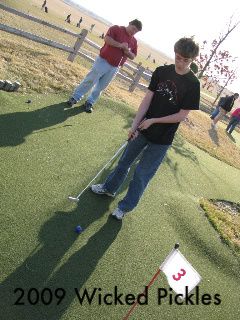 I love the pink cowboy boots.
Dill going for birdie.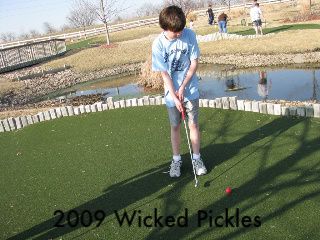 Cool on the first hole. He birdied.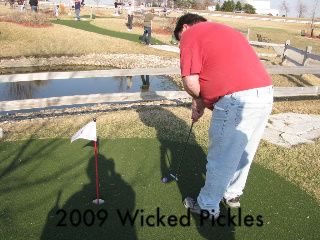 I just had to include the 13th hole. This is the hole in which I got a hole-in-one. I whooped and hollerd and had people casting glances, nay glares, at me but I didn't care because that was
MY
orange ball sitting in hole 13. Naner, naner, boo, boo.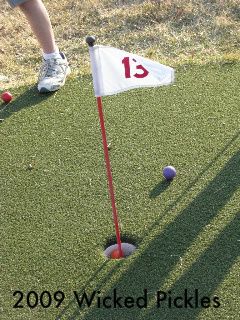 Finally we talked about the myth we read about on
Wikipedia
about an egg standing on end only on the equinox. I asked the picklets what they thought of that myth. They rolled their eyes at me. We stood an egg on end, after many, many, many attempts.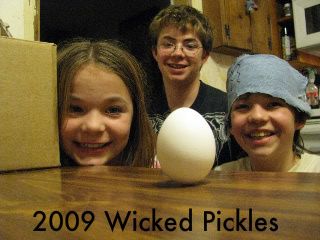 All the picklets believe that the egg will stand on end any other day of the year too. Next week we will try it again and see what happens so stay tuned.
copyright 2009 Wicked Pickles-Homefront Lines
All Rights Reserved