Chip got the idea for this painting from
here
. The pear blossoms in this picture represent the Song Dynasty. In Chips picture the three different flowers represent 3 presidents.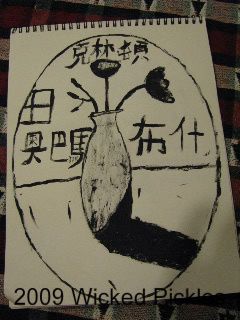 A marigold for Clinton for looking nice but smelling bitter.
A daffodil for Bush for coming in at a hard time as a daffodil comes in the spring.
And a bud for Obama for being a new leader.
copyright 2009 Wicked Pickles-Homefront Lines