We had a visit with our Supervising Teacher this week. The theme for this year is weather. Each month she has another element of weather for us to learn about. March's theme was lightning. She had a kind of neat experiment for the picklets to to do.
The materials needed are an aluminum pie plate, a foam plate, a thumbtack, a pencil with a new eraser and a piece of wool.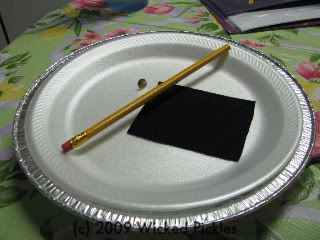 The steps are as follows:
Stick the thumtack threw the center of the pie plate from the bottom. Stick the eraser on the thumbtack so the pencil resembles a handle.
At this point if you would hold the handle the pie plate would resemble an umbrella as Dill demonstrates here.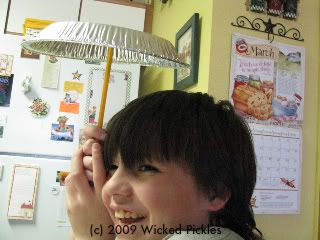 Then take the wool and rub it on the bottom of the foam plate for 1 full minute. Be sure to rub the entire bottom. (Incidently our Supervising Teacher indicated she almost had to sell a kidney to pay for the wool as it cost over $24 a yard.)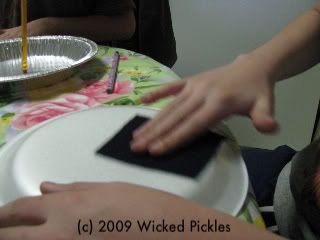 When the minute is up, take the pie plate by it's "handle" and place the bottom of the pie plate on the bottom of the foam plate. This should be the result.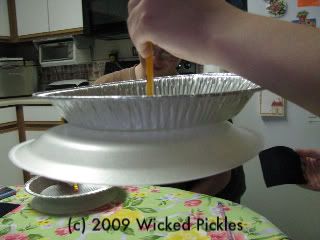 Chip found through experimentation that wool is NOT needed for this project. So if you are frugal just follow Chip's example by rubbing it on your hair for a full minute to get the same result.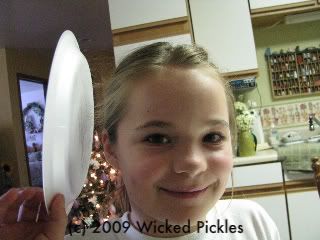 We were told that if this is done in a dark room that when the pie plate nears the "charged" foam plate that small sparks can be seen. We have not tried this but it will be a fun thing to do later. :-)