Thanks to our great friend Marj Nejdl, the picklets decorated fantastic eggs for our fifth make something cool project. The picklets have worked with Marj in the past and made these eggs.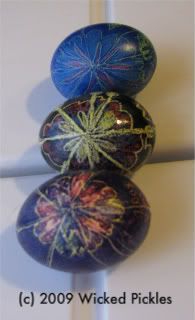 Though we didn't use the "Czech Old World Way" of decorating this time, we did use the technique of dipping and double dipping using the wonderful dye she gave us a couple weeks ago. Marj is a great lady and we are privileged to not only know her but to be friends with her.
Here is a 6 minute video about Marj. It shows a class she gave plus some of her eggs.
If you are interested in learning more about Marj and decorating eggs,
here
is a lesson plan.
Here are some of the Pickle Family's eggs.
I absolutely love the vibrant colors.
Cool decorated an egg to resemble the world with hurricanes and a tye-dye peace egg.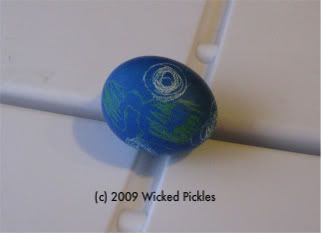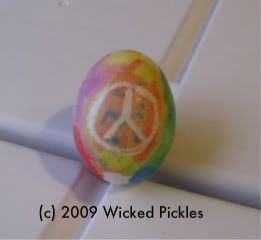 He used q-tips to tye-dye it.
Chip made this flag/USA egg.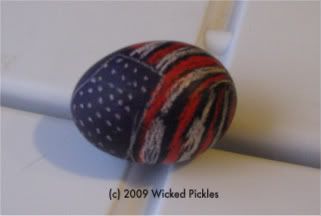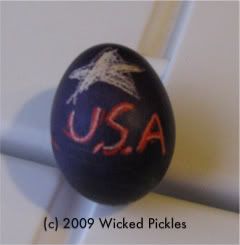 Dill make this purple egg with swords and jewels.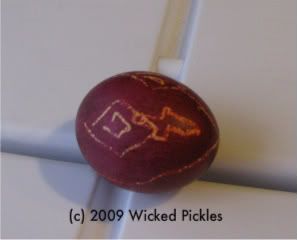 I made my own "tag" egg.


Sweet made a lady bug.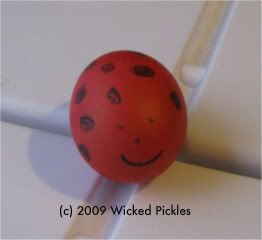 We plan on doing this again soon using the "old world" method so we can keep them.
© 2008-2009 Wicked Pickles-Homefront Lines
All Rights Reserved