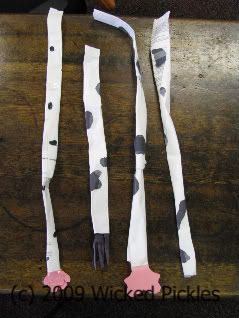 Above are 4 tails. Each is different in it's own way. Each has it's own personality. Each served one purpose.
Yesterday was
Cow Appreciation Day
at
Chic-Fil-A
. Never being one's to pass up on something free AND fun, we each decorated our own cow costumes, right down to the tails.
Dill dressed as a Jersey Cow. His costume consisted of a Viking's Jersey complete with spots, an ear tag that said "Jersey Cow", a mask printed from
here
, a placard that read "eat more chickin" and a tail.
Sweet dressed as "Sassy" the Beverly Hills Cow. Her costume was fashionably decorated with spots, necklaces,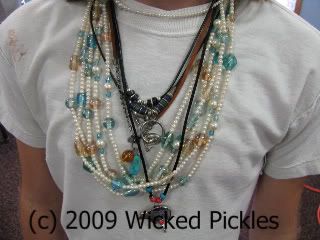 bracelets, rings, a purse, an ear tag marked "Sassy" and, of course, a pierced tail.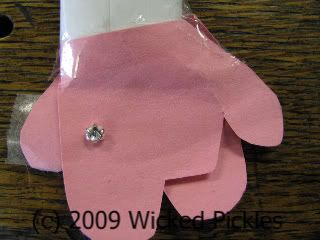 Chip was a pretty unsure about the whole dressing up as a cow thing. At 15, almost 16, he is way too cool, to participate in things such as this. Not really dressing as a "cow" but as a surfer dude with a cow head, he still chickened out at the mall. He walked in, looked over at Chic-Fil-A and said, "I'm NOT doing this." Turned around and walked to the van. Later, when he saw other teenagers dressed in cow costumes, he dressed back up and got his free meal. He wore a Hawaiian shirt with spots, a tail, a mask and a boogie board that said, "Cowabunga Dude!"
I dressed as one of the
cows that chased us last weekend at Abbe Creek
. I had spots or "markings", an ear tag with the name "Susie" (after my cousins calf named Susie) a tail and a sign that said, "I'm the cow that chased a family a Abbe Creek last weekend."
I also had a placard that had a whole bunch of cow facts, but left it at home. Sweet let me use hers instead. It also said, "Eat more Chickin."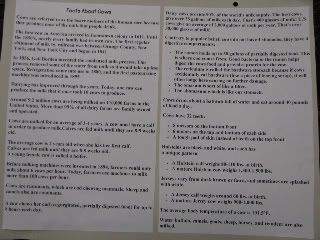 So, we all got our choice of what meal we wanted. Sweet chose chicken nuggets, Chip and I had the Chic-fil A sandwiches and Dill has the charbroiled. YUM! Then, on top of all that freeness, they were handing out prizes. We won a cow beanie that says Peece, Luv, Chickin. (Sweet is holding it in the picture) We also won food prizes of a shake, lemonade and chicken strips.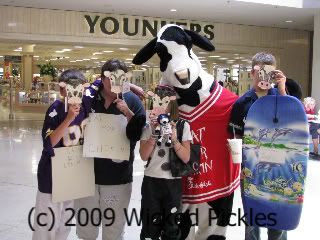 Last year we dressed up, walked through the mall to Chic-fil-A only to find we went on the wrong day
. Even though the manager took pity on us and gave us the free meal last year, this year was MUCH more fun!
(c) 2008-2009 Wicked Pickles-Homefront Lines
All Rights Reserved