We did a quick mini unit for MLK day. I did no research, just a google search this morning at 7:30 for lesson plans, before walking out the door for Gaga's house.
On the way to Gaga's we discussed why we celebrate MLK and how life as we know it would be different if he hadn't been courageous enough to do what he did.
The rest of the way we played the last letter game. Basically what ever word is said the next word has to start with the last letter. An example would be: da
y
,
y
ello
w
,
W
allac
e
,
e
ac
h
,
h
ous
e
,
e
ntire. It can get quite involved. In our ongoing game through out the day Dill tried to give Sweet only words that would begin with E...lol
On and off throughout the day the picklets worked on their school work. They listened to "I Have a Dream" on the way to the grocery store. Dill and Sweet wrote
Diamante Poems
(see their poetry below), did
copy work
(poem at bottom of linked page), read a
biography of MLK
and completed a
dictionary page
while at Gaga's. (Chip did his at home.)
Once we were home, had the van unloaded and the picklets got back from the sledding hill, we did an
art project on peace
(see project below). While working on their art project they listened to Drum Major for Justice, a free download I received this morning from
Learn Out Loud
. We talked about the
Martin Luther King Jr. poem
, what it means etc. We then discussed if they thought there were people who don't think MLK Day should be holiday and why while we ate some pizza and drank some pop.
To end the day we talked about Dr. King's vision of people helping people in need and what we can do to help. We found that the Civil Rights Commission is holding a book drive all week. So, we cleaned out our books to donate. We then talked about Haiti and the devastation caused by the earthquake. We are working on donations of toys and household items that might be of help.
Hopefully by the end of the week we will have a nice pile of donations for those in need.
Diamante Poetry by (in order) Chip, Sweet and Dill Pickle

Freedom
love right
needed loved admired
liberty justice money greed
wronged loathed death
distrust hate
Slavery
Dream
hope vision
hoping wished desired
illusion enchanted scary frighten
screaming scared quivering
terror horror
Nightmare
Freedom
sweet powerful
loving limited caring
gift property hard cruel
uncaring hating condemned
jail destructive
Imprisonment
Hearts of Peace Pictures
Caption and Picture by Sweet Pickle
"This is what it should be like across the world." (the captions say "thank you" and "you're welcome")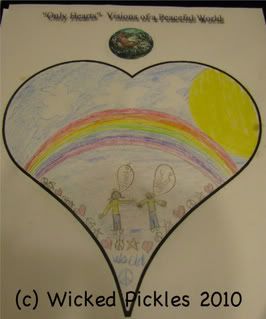 Caption and Picture by Chip Pickle
"Even when all chance of peace seem lost there's always HOPE."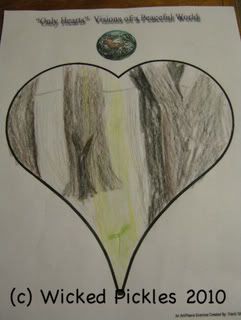 Caption and Picture by Dill Pickle
"Dark and light. Balance and harmony. Just as life should be."
(c) 2008-2010 Wicked Pickles-Homefront Lines