I was provided a copy of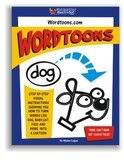 for the purpose of test and review from Wayne Louge/
Wordtoons.com
.
So, what is a Wordtoon you're asking? I wondered the same thing and then I saw this video.
Wayne Louge, a professional cartoonist, came up with the idea and explained easily on his
website
:
1. Start with a word written as plainly as possible.
2. Turn the word into a clear cartoon matching the word's meaning.
3. [Make it] Simple enough that anyone who can write can copy it.
When I first showed the picklets this idea they were all over it. Out came the paper and pencils, writing down words and making out of the words. Imagine how excited they were when I actually handed them the book! I have praised 100's of pictures the last few days. Each one wonderful, beautiful and original. After following the step by step instructions in Wordtoons, the pictures can be personalized in their own ways.
Basically what the picklets have done is follow the easy step by step instructions, memorize the instructions and then draw the pictures over and over again. They then decorate each picture differently. Some have faces, some are turned, some are colored, some have black eyes. They take their books everywhere and show everyone their works of art.
Here are some pictures the picklets made. I especially love the one called Double Aught Grandpa. See how he added the beard and moustache? Sweet is making a baby card for our friend who had a baby on Tuesday using the baby. She also made one up herself out of the word bottle.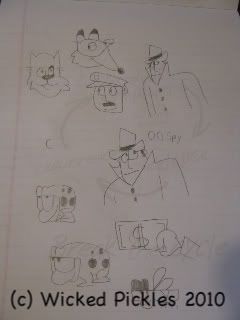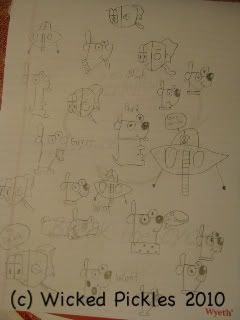 When I first heard about
Wordtoons
I really wondered if it would be a valuable homeschooling tool. I soon found it is invaluable. Wordtoons have:
1. Stretched the picklets imagination.
2. Built their self confidence
3. Improved their memorization.
3. Given them something constructive to do in their off time
4. Given them a cartooning foundation to work with.
Plus they are fun! Can't beat that. This is definitely something that works for our family. Want to know if it will work for yours? Click over to the
Wordtoons website
and download the free sample.
(c) 2008-2009 Wicked Pickles-Homefront Lines