A post with actual homeschool content. AMAZING!
Chip and Sweet are at gymnastics instructors school this week and last, so Dill has had the rare opportunity to do school work on his own. Not that he doesn't have his own work it's just been uninterrupted.
On Monday I told him to finish up his journal entry, put his stuff away and we would work on a body map. Having no idea what I was talking about, he cautiously did as he was told and then waited. I took out a long piece of butcher paper that I retrieved from the hands of someone who was going to throw it away and said, "Lay down." I outlined his body with a sharpie and told him he needed to find some websites that would show him the organs and bones and he was to map them out.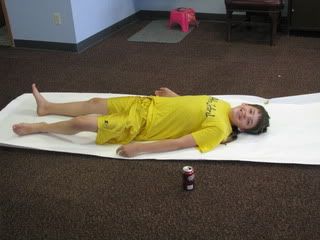 He found two sites that he liked and were easy to follow. This one for the
skeletal system
and this one for the
internal organs
. He decided he didn't need things like a bladder or a gallbladder because those would cover up other organs already drawn in. I had a hard time convincing him to draw ribs too because of the fear they would cover the heart and lungs. As you can see he got himself so worked up over it that he though his ribs were in his brain!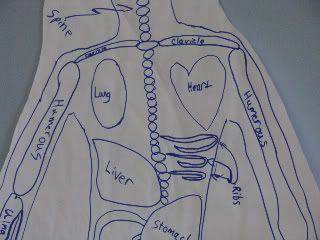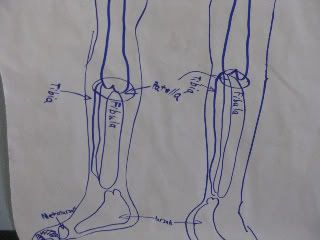 He studied the computer hard
and worked his fingers to the bone.
And in the end he created "Inside Out Dill"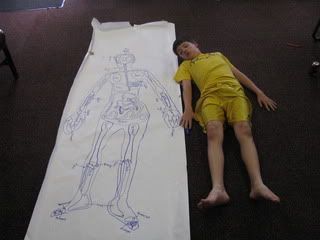 All in all, he learned quite a bit, had fun AND has this awesome "Inside Out Dill" to hang on his wall.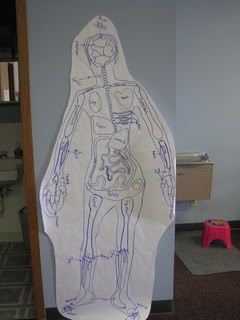 (c) 2008-2010 Wicked Pickles-Homefront Lines