To help us celebrate the 4th this year we decided to work in the garden. Not that it needed a lot of work but seeing our hard work start to pay off was a great way of celebrating. :)
From our garden we harvested 7 kohlrabi, a whole row of radishes and all our dill. Sweet made chunky veggie dip using some of our harvest. (YUM!) We noticed that none of our carrots and only one eggplant came up and that something is eating the leaves off our beans but the beans are still blooming so we will see what happens. It looks to be a good harvest.
The front of the garden. 24 tomato plants, in back of that are 10 rows of sweet corn and in back of that is a trellis of cucumbers.
Speaking of cucumbers...here is our first one.
Looks nice, huh? In reality it is quite small. The flower is still on the end of it. But it IS a start!
The corn is so tall, is tasseling and is starting to form ears! It is taller than Chip who is taller than Cool making the corn TALL! Well at least 6'.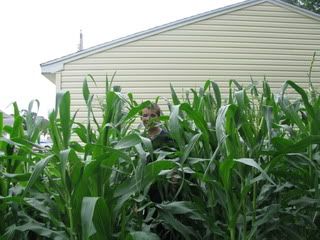 If you build it they will come.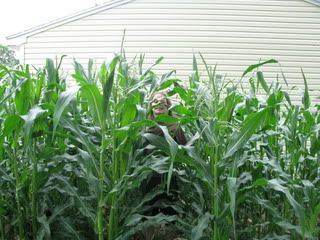 A starling kept squawking at us and flying about. We finally realized there was a baby in one of our tomato plants. It was so cute.
There was a huge ant hill on our patio. When Cool was little he used to lay on his tummy and watch the ants. This reminded him of his childhood. We all need that once in a while. ;)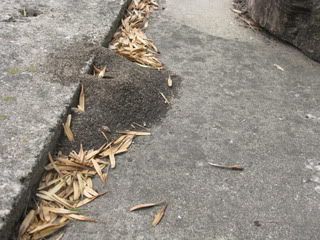 Watching the kids watch the ants was a great site. :)
(c) 2008-2010 Wicked Pickles-Homefront Lines