I am not ashamed one bit to admit that we buy a majority of our clothing at garage sales and Goodwill. It is one reason we can afford to homeschool.
Today was quarter day at Goodwill. And it was a pretty good day. Take a ponder.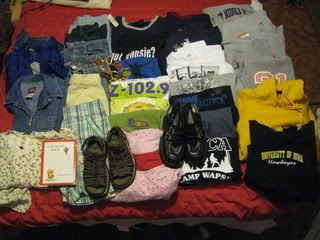 All together I bought 7 sweatshirts, 13 t-shirts, 4 pairs of jeans, 2 pairs of shorts, 2 dresses, 2 jackets, 2 pairs of shoes, 1 book and an earring hanger. The grand total...$12.40.
T-shirts are a staple at Goodwill.
Two of my favorite t-shirts this trip are The Pledge of Allegiance which is perfect for Chip who loves all things America.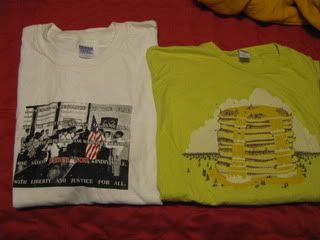 And the yellow pancake shirt.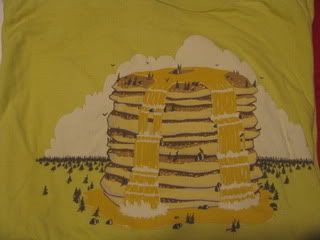 It is so neat. It looks like pancakes with syrup but upon closer look it is a hill and the syrup is water falls. Perfect for my pancake loving Sweet, who fell in love with it immediately.
One of the keys to purchasing good quality, decent clothing at Goodwill is to buy off season. Sweatshirts go un-noticed during the summer months. That is why 5 of the 7 hoodies were only a quarter. No one looks at them cause why would you need a sweatshirt when it is 97 in the shade? Because winter is coming, that's why.
This Uof I sweatshirt is new, never been washed. I love the Hawkeyes inside the hood.
I bought it to give to Sweet for her birthday...in November. I also bought another U of I hoodie to give to Chip for Christmas. It had only been washed once or twice and is still soft.
This God Bless the USA sweatshirt is also new and not been washed.
It is a gift for Gaga's 90th birthday. It is coming up next month. I love buying gifts for people at garage sales and Goodwill. It is great recycling and much of the time no one can tell where the gift came from.
Another must do is to move each hanger to look at each piece of clothing and each tag. If we hadn't done that we wouldn't have found these two dresses for Sweet.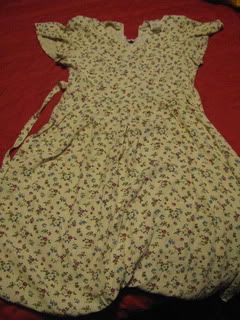 They fit perfectly and look wonderful on her.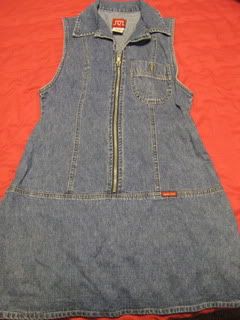 They were lost in between women's dresses.
Look for new items. They are out there. These Dockers are brand-spankin' new.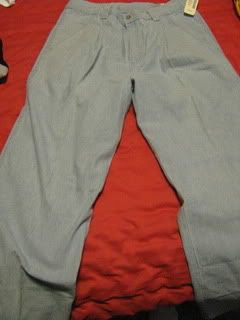 They fit Chip perfectly and will be great for when he needs to be a bit dressy without needing a suit. The price tag is still on them.
I paid a quarter. But even if I had to pay the full price of $3.38 it still would have been a great deal.
Being in the right place at the right time also helps. These Dr. Martens are brand new. Never been worn.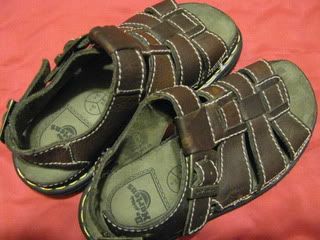 The bottoms are pure black. I paid $2.38. I looked them up on the internet. The lowest price I could find was $79.00. Sweet loved them.
Of course sometimes I just buy things because they call my name. This "Tao of Pooh" book called my name today.
I will be curled up in bed reading it before long.
I don't get deals like this all the time but I scored big this week. New items to give as gifts and name-brand items I would NEVER be able to buy brand new.
The real key to dressing a family the Goodwill way is to get the whole family involved. Let them loose to find what they like. We normally visit only on quarter days and I let the picklets pretty much get what they want for that price. Of course you have to look carefully for stains and tears, be patient as Goodwill shopping has become very popular lately and visit the thrift stores on a regular basis because one day you will score big and the next you won't find anything. But it is part of the game and the thrill of the hunt. :-)
(c) 2008-2010 Wicked Pickles-Homefront Lines