We are attempting to study one state a week this school year. So far we have studied one state. We should be on our fourth. I'm not too concerned about it. What will be will be.
While studying Alabama Dill make Alabama Pecan Bars. They were really good. Why wouldn't they be? There was a half pound of butter in them. ;-D They are very close to the Keebler Sandie cookie.
This recipe is from the book
It's My State! Alabama
by Joyce Hart.
Alabama Pecan Logs
1/2 pound sweet butter
1/2 cup powdered sugar
2 cups chopped pecans
1/2 tsp salt
1 cup flour
1 tsp vanilla
Heat oven to 325. Grease a large cookie sheet. Mix butter until it is smooth. Add sugar, salt, flour and vanilla. Stir in pecans.
Roll a heaping spoonful of batter into a log and place it on the greased cookie sheet.
Bake logs for 15-20 minutes. Keep an eye on them so they don't burn.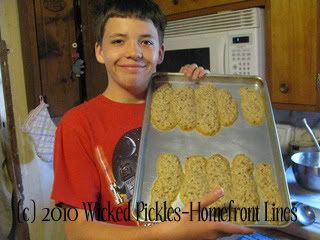 The logs didn't stay log form, they were more of a cookie by the time the baking was done. Sweet didn't like the pecans so she wouldn't eat them.