For the last few years we have participated in Journey North's symbolic monarch migration. Each spring we anxiously await a package from Journey North. We received one this spring but it was accidently filed in the generic Tupperware box on the porch, along with a phone bill and a postcard, before it was opened. Imagine my surprise when I searched for a bowl and lid and found mail instead. Mail that is months old. Yup. We moms love surprises like that.
I knew there was major flooding in Mexico so I didn't think we would receive butterflies back this spring. The butterflies that were sent down from Canada and The States were ruined in the flood making the migration back north impossible.
The butterfly we received was made from a student in Mexico. That makes it even more special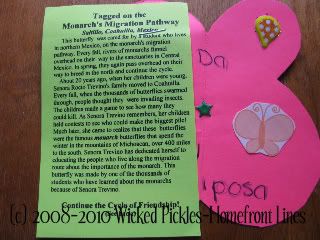 As an added surprise we received milkweed seeds. I put the envelope in the fridge and we will plant them next spring.
We are now working on our butterflies to send for this year. Looking at our past symbolic butterflies and the ones that migrated back to us is quite the inspiration. Check out these past posts:
Butterflies received May 2008
Our
Symbolic Butterflies October 2008
Our Symbolic Butterflies October 2009
If you want to join the symbolic migration now is the time. Check out
Journey North
for the rules and regs.
(c) 2008-2010 Wicked Pickles-Homefront Lines