On the
Bohemie
side of things, the picklets learned to make homemade noodles a couple weeks ago. We went to Gaga's one morning and Gaga turned school marm, set to work teaching. She was hilarious to watch. The end result was great tasting noodles and priceless memories.
Gaga started by showing the picklets how to make the noodles and explained what she did through the process.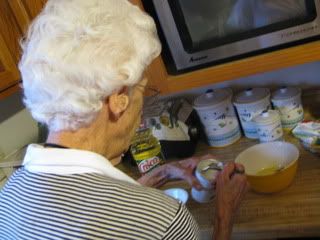 The picklets gathered around her and that wasn't easy since it was a small space
.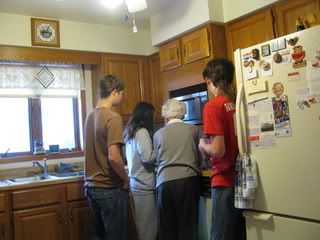 Gaga's hands seemed to go double time. She has been making noodles for 80 or so years.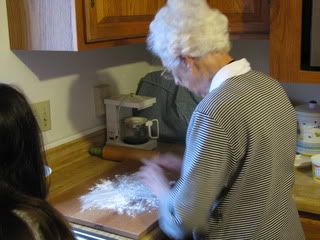 Next she had the kids make their own batch. She watched each step they made.
This picture, though it doesn't show why, makes me laugh. Dill has a heavy hand when it comes to rolling dough out and kept putting holes in it. Gaga kept slapping his hands away so she could fix it. It had us all laughing.
She was impressed with Chips rolling.
After rolling, the dough was carefully moved to the bedroom for drying.
And layed out on the bed. Gaga told us that when she was growing up and visited her aunt she remembered that her aunt had a string hung over the stove to hang the dough on to dry. She said the dough had to be just right not to tear though.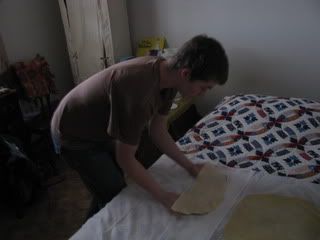 After the dough was dried enough but not too much that it crumbled, Gaga showed the picklets how to cut it into thin noodles.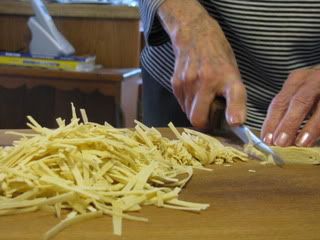 The kids then got the chance to cut the noodles too.
Then she cooked the noodles for lunch. She was concerned they wouldn't come out right since she didn't make a chicken and used the broth from the chicken. She used a can of chicken broth, some chicken noodle seasoning, salt and pepper.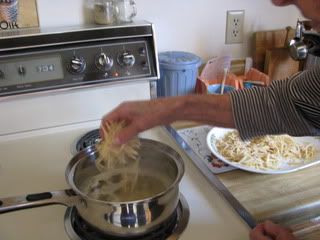 The picklets eagerly watched and waited.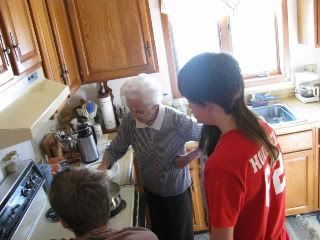 I didn't get a picture of the cooked noodles because the picklets wolfed it down too fast. But trust me...it was awesome!
The end of the day is always sad when we have to leave. But we got the parting Gaga and picklets picture.
© 2008-2011 Wicked Pickles-Homefront Lines