To mark the end of summer and the beginning of the school year we went to
Adventureland
. This year was a bit different as the kids are old enough to go off on their own, ride the rides they want and have a little freedom. It is bittersweet to say the least. Cool and I went off on our own, talked, people watched, walked and enjoyed the day together. Periodically we would catch up with the picklets and try to enjoy the fun through their spirit and energy.
Cool rode with the picklets on the Saw Mill Splash. He was pretty sick afterwards since is spins all the way down.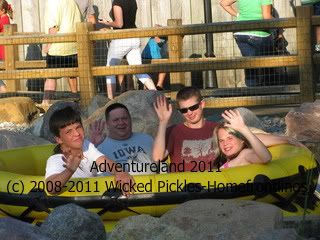 Chip really wanted us to go to the magic show with him. It was only a 15 minute show but it was good. The magician did the Houdini trick.
As a family we went to the juggling show. It too was only about 15 minutes. The juggler was an actor that was in Law and Order or some other show like that. He was funny but the music was way too LOUD. Here he is balancing chairs on his chin. While he was juggling the fire batons he dropped on of the batons and caught the grass on fire.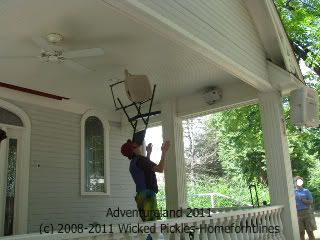 I did a lot of people watching while I waited. These two were sound asleep at a picnic table in one of the food courts. Eventually they woke up and she barfed her guts out all over the ground. He stood there and laughed at her. I informed Cool that if he ever laughed at me while I was puking he would regret it. He concurred.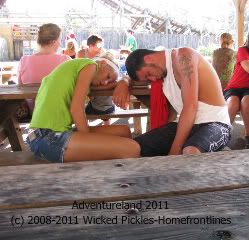 Sweet spotted this Amish family coming in the gate around lunch time. While walking around in the afternoon Cool and I were behind them. I snapped some shots trying not to get their faces. They didn't ride any rides, they just walked around. The best I can guess is the two older ones in front (the woman is holding a 2-3 year old girl and the man is holding the hand of a 5-7 year old girl) are either the parents or grandparents. There were two boys and 4 teen to twenty year old girls plus the two little ones. I thought it was interesting that for purses the girls carried ice cream buckets with lids.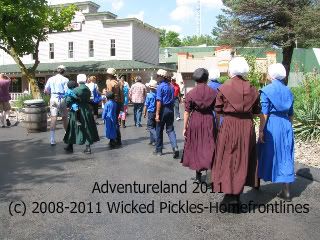 In all it was a fun day. Not too hot and even though we walked around the whole day, it was quite relaxing.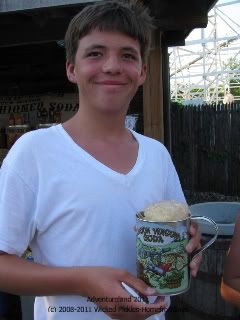 I know Dill had fun! And even though that is a terrific picture of my middling child, the reason I post this picture is to leave you with a taste of the prices.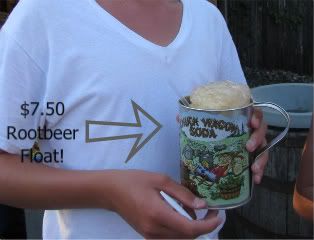 (c) 2008-2011 Wicked Pickles-Homefrontlines