This past week we had the most welcome visitors. Aunt Marigold and Aunt Daisy! These lovely ladies are the daughters of our
favoritest neighbor
of all time. She died a few years ago and we miss the whole family desperately. Each time they visit the area they make a visit to the picklebarrel. We hug, we talk, we laugh and we hug again, just to hold us over to the next time. Boy do we love them.
Well this visit we asked if they would like to see the picklets do some gymnastics at Sokol. They were game. So Wednesday afternoon Aunt Marigold and Aunt Daisy spent a couple of hours in the gym watching the picklets showoff and reminiscing. Oh how I have missed our visits!
The picklets somehow talked Aunt Marigold into playing tag with them. This is what happened. (notice the cold water bottle on the twisted ankle)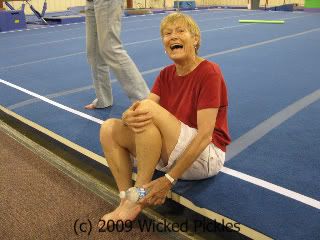 But Aunt "Mar" was walking just fine by the time they left.
We always take pictures before the visit ends. It is nice to chronicle these visits but it makes me feel old to remember how small the picklets were when we first met. My daughter, this time around, decided she was a hoodlum or something like that.
Then as always there was one more hug before they left to hold us over till next time.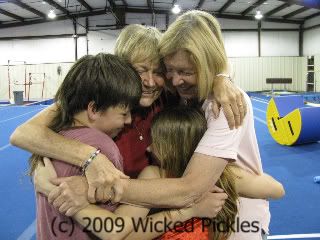 Unfortunately Chip wasn't able to attend because he hurt his neck earlier in the week. I left him home with the heating pad and a good book.
© 2008-2009 Wicked Pickles-Homefront Lines