After completing the
Learning to Fly study and lapbook
, being the homeschool mom that I am, I looked online to find something else to further our study. I found a really neat airplane experiment on
Kids DO Science
. The unit went over methods of science, saftey, vocabulary words, animal facts and thinking skills. It also included worksheets and follow up questions in which I re-wrote because they were geared toward a classroom setting.
I printed off the instructions and the picklets were let loose to make 6 paper airplanes in various weights of paper.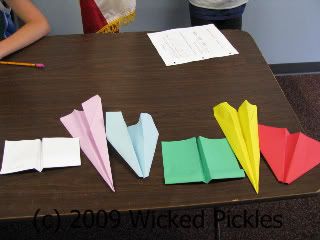 These airplanes are named after animals found at the Upper Three Runs Creek, near the school where this lesson came from. Dragonfly, grasshopper, big brown bat and bald eagle are a few.
After the construction, came the fun part. Luckily, we were at the gym the morning of the experiment and had plenty of room for the flying.
It is a must because a lot of throwing, testing and measuring were in store.
They learned that scientists use centimeters when they measure because it is easier to do the math, so the picklets measured in centimeters.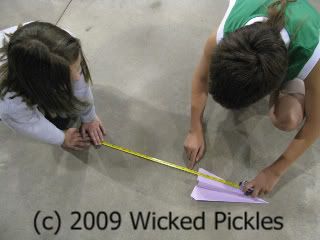 At the end of testing the distance these airplanes flew the picklets filled out some questions, averaged out the distance and made some bar graphs.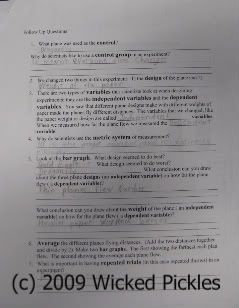 Then they re-tested after changing the variables. They added weight with paperclips, added additional folds, turned a fan on...all kinds of different things. They also recorded the distance on each of these.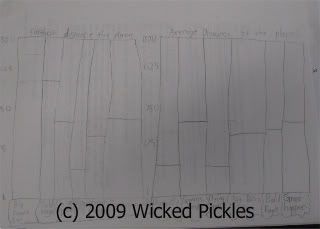 In all, this experiment is probably their favorite of all time. When else do they get permission to spend three hours throwing paper airplanes? Of course, I know they learned quite a bit in the process of it all. :)
(c) 2008-2009 Wicked Pickles-Homefront Lines
All Rights Reserved