The
Unplugged
theme this past week was feathers. I had this great idea to make a cardinal frame with some bright red feathers. You know what they say about the best laid plans? They don't happen. But that is OK. I love ingenuity, imagination and spur of the moment, so that is what this project is.
We went to the dump, one of our favorite places to go because we can get wood for the fire pit and explore to our hearts content. There we picked up some sticks. The intention was to build a frame from those sticks with hot glue and our imagination. One for one!
While the picklets were gluing the sticks together Sweet said, "Mommy! I know where a whole bunch of feathers are!" I said, "You do? Go get them!" So Sweet ran out of the house to gather feathers. She came home with two handfuls. My guess is some bird met an untimely demise from a neighborhood cat.
So then I said, "OK guys. The sky is the limit. Do what you want." And so they did. They all built picture frames. The frames are as different as they are. They are all works of art and perfect!
I love the nature in these frames. I can't wait to get some pictures made and utilize them.
Chip made his to fit a 5x7 print. He used hickory nuts as decoration. I love the bottom stick that looks like it could be used as a bird perch.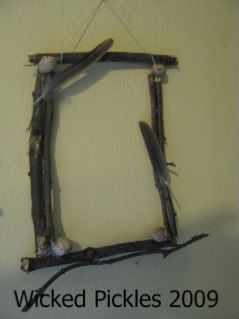 I like that the feather is kiddy-corner.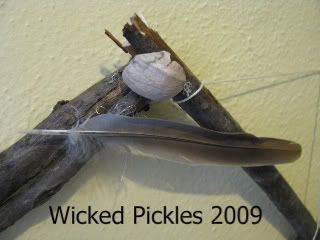 Dill also used hickory nut shells on his for decoration and 4 feathers, 2 on top and 2 on the bottom.
Sweet's resembles a tee-pee.
She glued feathers on the sides of the frame.
She made a stand and glued it on the back so it stands properly.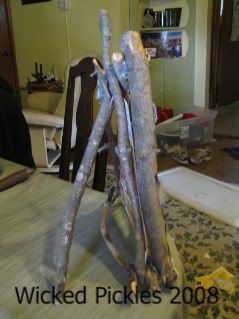 Check out
Unplug Your Kids
for more feather projects. Next week's theme is the letter J.
(c) 2008-2009 Wicked Pickles-Homefront Lines