The picklets were fortunate in being able to attend the Food, Fitness and Fun event that Shawn Johnson was speaking at. We worked at a Sokol booth for the day.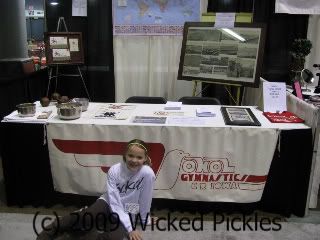 See the map up on the wall? The picklets looked up all the locations in the world that Sokols are located, put pins in each location and hot glued them in. They then printed out the names of the locations and taped them on the map. Great geography project!
There was a Grand Procession in which local gymnasts led Shawn Johnson around the stage two times. She stopped for me take her picture but sadly my camera wasn't cooperating with me.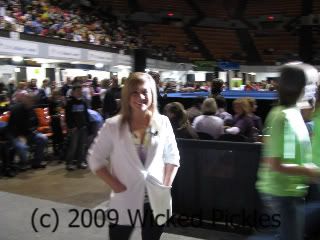 Shawn gave a speech about eating healthy, staying in shape and having fun while doing it.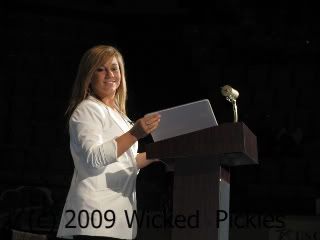 I don't think she wrote it herself but she spoke very well and was admittedly very nervous.
After the speech she sat with a local reporter and answered questions. Then she took questions from some local gymnasts who were on the stage with her.
One of the questions from a gymnast was, "What was your hardest trick to get?" Shawn answered the kip which is something Sweet has been working on for almost a year. Sweet said, "Did you hear that? She said her kip!"
In all the event was a lot of fun. Though no one got to "meet" the Shawn Johnson (or get her autograph), they did get a ton of freebies, get to hang with some friends and got to have their picture taken by a celebrity...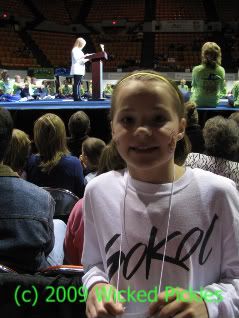 ...or two. :-)
(c) 2008-2009 Wicked Pickles-Homefront Lines