Sweet recently wanted to learn how to embroider so she could decorate her American Girl clothes. So, being as she was studying beavers at the time, I found a beaver embroidery pattern for her. We sat on my bed together and I taught her how to embroider.
She learned to thread a needle. LOVE the blue fingernails!
And how to follow the lines using a long back stitch. (I learned something very important...don't use the middle of a large flour sack towel...maybe a corner woulda made it all easier)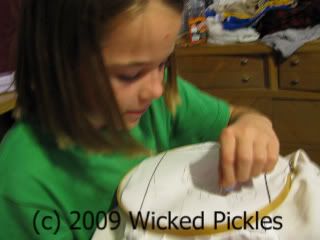 She was very precise and concentrated hard.
Some of her stitches were a bit loose and a bit far apart but a
very good
first project.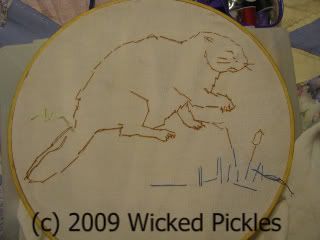 She was mighty proud and took it everywhere to show her handy work. (Love the zit in the middle of her forehead!)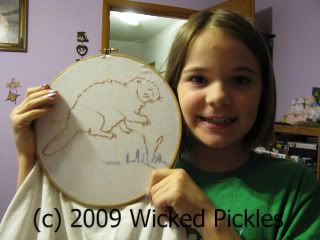 (c) 2008-2009 Wicked Pickles-Homefront Lines