We celebrated Cool's birthday not too long ago. The picklets always try to make the day special for him.
They started off with buying him a day old donut and serving it to him, complete with a votive candle, in bed. Nothing but second best for my family!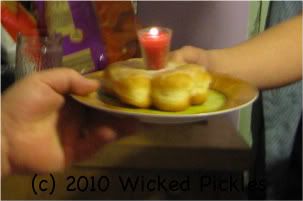 The picklets put their money together and bought a small scrapbook and some decorations. They worked together for a week making a keepsake for him.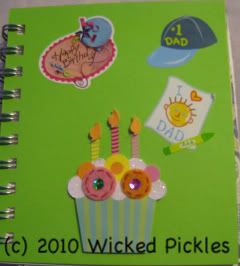 These are my favorite pages. I guess they didn't like his beard. LOL Man were we young. I was pregnant with Chip in this first picture.
And boy howdy were we dorks. Would it surprise you if I said we have another picture just like this second picture only of Cool? Nothing like matching jean jackets to say bumpkin!
I love that they put their math skills to work for his present. It tickles the homeschooler in me and the accountant in Cool! 5+7-2/2=our family
We went to Lone Star for supper. He just loved being sung to. The hot fudge brownie thing was too bad either. <:o)
Happy "Birpday" my love. Your love means more and more each day.
(c) 2008-2010 Wicked Pickles-Homefront Lines