About a month ago I put the picklets in charge of their own laundry. I assigned them a day of the week that they would get the washer and dryer exclusively. You see, I got very tired of washing folded clothing.
Along with their laundry responsibiltyI gave them two towels each and told them they would be in charge of their own towels. They need to be hung up after each use and washed on their wash day. I got tired of washing towels all the time too.
So far it has been a success. My laundry day is much less stressful and the picklets are seeing what it takes to keep their clothes clean. And I am not nearly as upset when they don't put their clothes away. Took a lot of stress away. :-)
I was using the facilities when I looked over and saw Sweets towel hanging all alone on the hooks.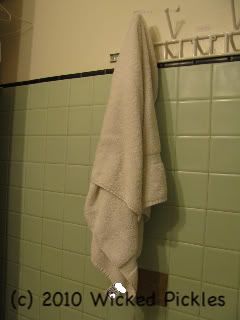 I noticed on the tag there was black writing. I looked closer and saw Sweet personalized her towel. How precious.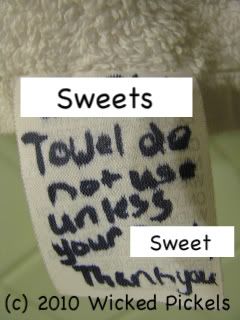 (c) 2008-2010 Wicked Pickles