After a great day of shopping with my mom, I had to go to Sokol for a meeting. I had received a phone call the night before from the president (of Sokol) telling me he wanted an executive board meeting and could I attend. I agreed, not happily. I really feel as if Sokol is taking over my life and to have to go to a meeting on my birthday really ticked me off. But I went anyway.
Cool told me he would just meet me there so my mom took me over. Cool met us outside while my mom went in to use the restroom. I walked in, got a glass of water and went to the other part of the building only to see an arch of balloons and about 50 people whom I am told yelled surprise! I don't remember anyone yelling surprise. In fact I told Cool it really would have been nice if they would have said it. LOL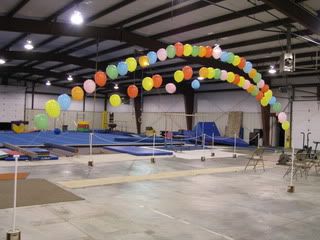 My aunt from WI was there, my Gaga, my parents, my bestest friends, homeschooling friends, our supervising teacher, gymnasts and their parents, Sokol members. I felt so blessed.
Cool and the picklets, along with my parents, set this whole thing up. They had a table with pictures of my life.
Balloons were everywhere. There was a table with food. A table with cake, peanuts and mints. A table for gifts. And tables full of people. The kids went to the mats and played the night away.
That was until Cool got every one's attention and made a speech. "As you all know today is Gerky's 40th birthday. What most of you don't know is that yesterday we celebrated our 15th anniversary." He went on about how we make each other whole. The next thing I knew he was down on one knee asking me to marry him for another 15 years. I, of course, said yes.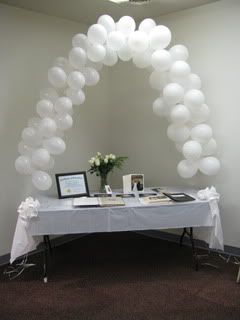 After I said yes, Cool said my dad's name. My dad got up and lead everyone into the other room. Cool had set up a wonderful "chapel" and asked my dad to officiate for our vow renewal. OMG! I turned beet red and started shaking. My dad opened up his booklet and said, "15 years ago I told Cool it was OK for him to marry my daughter if he promised he wouldn't bring her back." You could hear the laughter. A few more ad libs and down to business. "Repeat after me...." It was all a blurr and then, "You may kiss the bride." Everyone clapped. Dry eyes were hard to find.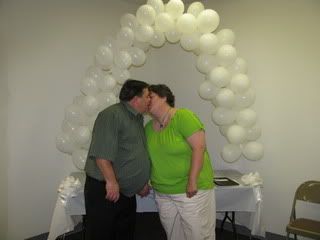 I was giddy. I went around to all the tables, talked to everyone and thanked them for coming. I told the story about how he first proposed. I talked of how we are meant for each other. How we can finish each other sentences. How we think of the same things at the same time. Of how much I love him. The time flew.
After everyone left we met my besties at my mom and dad's house for birthday pumpkin pie. As we sat around the table it seemed like old times. We laughed and reminicsed. We talked about the good ol' times and the not so good ol' times. It warmed my heart and made me wonder why we don't get together more often. We all live within 20 miles of each other.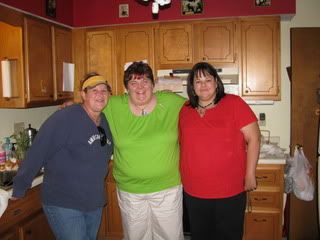 The night finally had to end. Ms. Crisp and Beet's mom left. We loaded up the van and took off. Cool and I stayed up for another 2 hours talking about the night. What we liked, what didn't.
I went to bed feeling very loved. And the best part is I know I am.
(c) 2008-2010 Wicked Pickles-Homefront Lines