The picklets and I were invited to a tour of the
MacBride Raptor Center
yesterday. The picklets were pretty excited about this field trip. Since we got to pet a bald eagle named Sanabelle in Missouri a few years back we have all been bald eagle fanatics. It was a beautiful day for an outside field trip. The sky was clear, the humidity was down and the temperatures were in the low to middle 70's.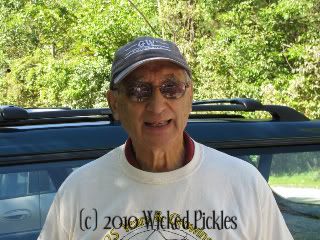 This is Pat. It is short for Pasquale. He just turned 80. He was our tour guide. His daughter was supposed to give us the tour but was called out for an injured raptor emergency. The center is actually free to the public to walk through. The hours are long and the scenery beautiful. The tour costs $25.00 but split between several people is little to nothing. And the tour is definitely worth it.
The MacBride Raptor Center is a nonprofit that rehabilitates approximately 150 birds a year. About 75 of the 150 are returned to nature.
This is the flight cage. It is approximately 100 feet long and 12 feet wide. When a raptor is ready to "learn" to fly again they are taken to this shed. The raptors are "launched" from one end and fly to a perch at the other end. The exercise gets them strong enough to return to the wild.
This is our copywork for the week. This sign was posted as we were entering the section where the raptors are.
"We are here for you to admire, learn from and above all respect."
~~~Hawk, Owl, Eagle
"You cannot perceive beauty but with a serene mind.
~~~Thoreau
There are several types of owls, hawks, eagles and other raptors at the center. These raptors were either too injured or imprinted on and could not be released into the wild. They are housed here for the public to learn from.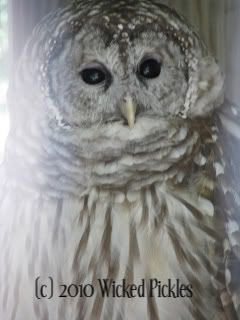 This is a barred owl. He had quite the personality. Imagine the sound you make when you chomp your teeth together. He made that sound. Sweet would chomp her teeth back at him and he would chomp back at her. It was comical.
This is a Harris's Hawk. He is at the center due to human-imprinting.
These are American Kestrels. They were really very pretty.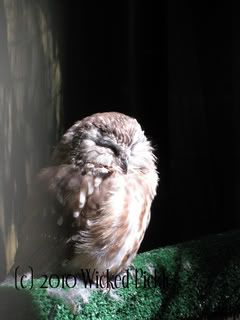 This pretty little gal was Sweet's favorite. It is a Northern Saw-Whet Owl. Her left wing was severely damaged. She weights 3 1/2 ounces and has a wingspan of 2 feet.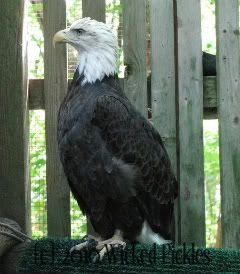 This is Spirit. Her left wing was removed due to a dislocation and has been on display since 1989. She weighs 11 pounds and has a wing span of 7 feet.
The tour lasted about an hour in all. We viewed some very awesome raptors and heard some very neat stories. It opened up a whole new world of wildlife to Chip. He inquired about volunteering and would really like to learn more about the raptor species.
Gerkin
(c) 2008-2010 Wicked Pickles-Homefront Lines