After the
tour of the raptor center
concluded, we left the group of homeschoolers that attended and went off on our own. On our way out of the park we were stopped by this woodchuck. I had to honk several times before he would move.
WE had lunch in the park. The picklets were starving.
We then headed back to the raptor center to do some nature journaling. We started in the butterfly garden. There weren't too many butterflies though. I did manage to catch this shot. This was one of like 6 that I saw the entire time we were there.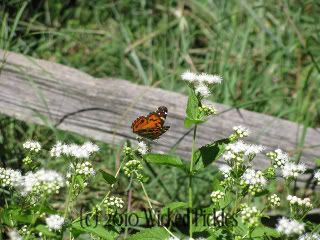 This is a butterfly log pile. Basically it is a pile of logs stacked up log cabin style. There are many openings for the butterflies to perch. There is also a tarp between two of the layers to protect the butterflies from the elements.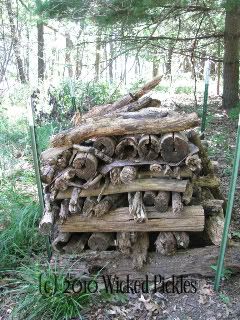 This lambs ear in the butterfly garden was a perfect roost for this daddy long leg.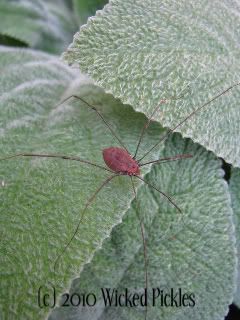 In the woods by the butterfly garden we saw several deer. At one point Dill said, "I see more deer." I asked where and he replied, "In back of you." I turned around and there were two deer about 50 feet from me.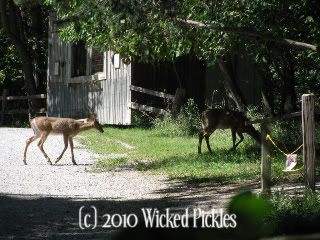 We came to a cliffy area that was just gorgeous. The picklets immediately went to investigate. They had so much fun.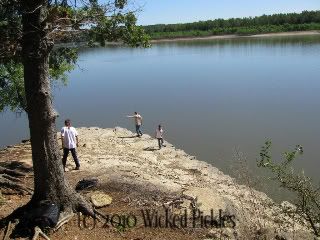 There was a tree growing up out of the cliff. It amazes me that I can plant a tree, in fertile soil, and it will die but a bird can poop a seed, on a cliff, and it will grow. Chip loved this tree.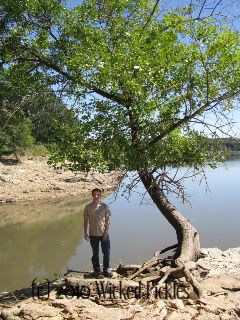 Dill had fun skipping stones. This one went three times I think.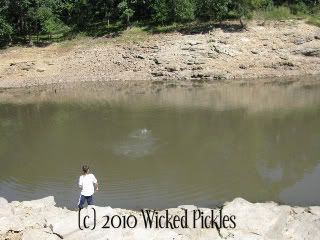 Chip continued exploring and kept calling me over to see what he found. After tripping down the first time I decided to stay put and just take pictures of their exploration from afar.
The highlight of the afternoon was when Sweet found a treasure chest. Literally.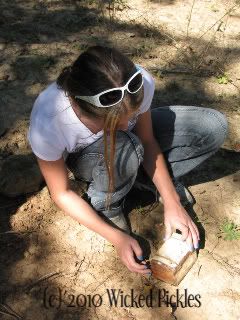 It was nestled in the cliffs. A perfect little treasure chest for a little adventurer to find.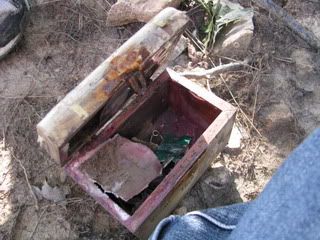 It was really in pretty bad shape. It was washed up in the flooding earlier this year we are guessing. But there was a letter, a poem, a story, a picture and various other trinkets in the box. She took it home to show Cool and grandma and grandpa. It has now found a home in our garbage can. (:
On the way out of the park we saw someone feeding the raptors. So, we went over and talked to her. She had a bucket of dead mice. All she did was wash off the area where the raptors feed and put a handful of mice on the platform. Ick! She told us that the center had a bald eagle release last week. How cool would that have been to see?
As we walked to the car we saw 8 more deer. This little one was the youngest. The mama, which you can't see in the picture, was to the babes left. She watched us the entire time. After I took this picture the babe fled and the mama followed. Behind the mama were two more younguns about a year older than the babe. It was totally awesome to watch.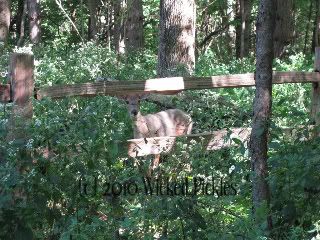 We really had a great day exploring and making our own adventures. On the way home the picklets summarized their day in the nature journals. I hope they will look back on this when they get older and say, "I remember that day. I had so much fun!"
(c) 2008-2010 Wicked Pickles-Homefront Lines