We don't do much with our homeschool association but this year they started a nature club. We decided to join and had our first meeting yesterday.
We met in the morning at one of the supervising teachers houses. She lives in the country and it is just gorgeous. We gathered together, received our instructions and off we went. There was a 1/4 mile of country road to explore.
Flowers are still in bloom. Butterflies and moths are still around and making use of the flowers.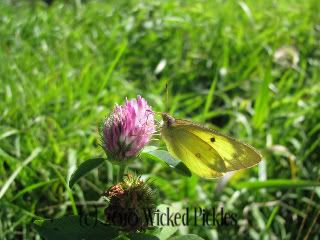 One of the items that was brought up during our briefing was to use our different senses to see what we can notice. Special attention was brought to taste. The supervising teachers recommended NOT using taste. When we got to the clover the picklets and I used our taste. My mom taught me when I was little to bite the end of clover. It is very sweet.
We were also told to look small. I reminded the picklets to look at 1 square inch at a time. If we wouldn't have, we would never have seen this. Sweet found and took the picture of this beauty.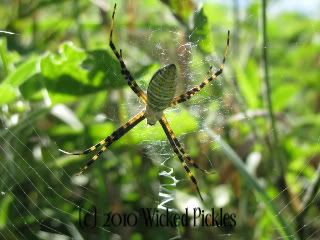 Using our hearing was also important. The sound of the water running had the picklets climbing down in gullies and through brush to find this crick.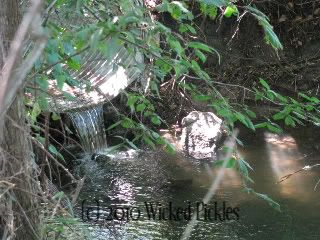 Chip noticed these bird tracks in the mud. I would have just walked right past them. I swear that boy sees more beauty in the everyday world that I can even imagine. He liked the way this looks, almost like a painting of some sort.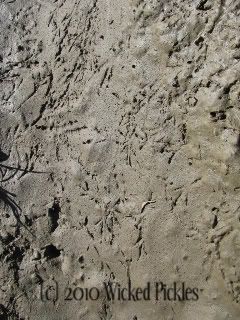 This purple flower is Canadian something or the other. It is very pretty.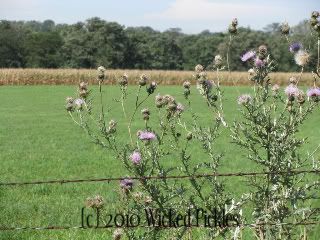 Sweet was in CSI mode. She was digging to extract something that she found very cool.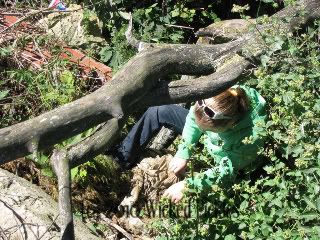 This picture makes it hard to tell what she found but to the far left is a skull, next to that is a pelvis and to the left of that are several ribs. We are unsure what sort of critter she found but it is now here at home and will be a science project for next week.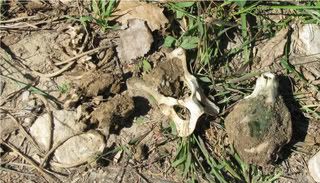 We spent about an hour and half exploring and having fun. We were the first ones down the road and the last ones back.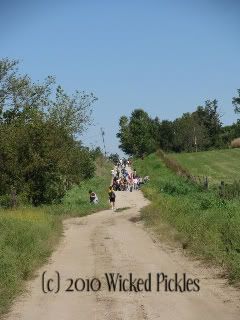 The rest of the group was all the way up the hill, heading back for lunch when Chip took this picture. I am to the left in the grey shirt looking down at Sweet who was extracting the skeleton and Dill is in the yellow in back of me.
By the time we got back up the hill everyone had cleaned up and was eating lunch. Dill, Sweet and I waited quite some time before Chip got back up the hill.
The picklets and I all agree that we can't wait for next month. Each month will bring something new and different because of the changing of the seasons.